now, i worked a bit on my presentation for saturday and i got up around 930 and started making my chocoflakes. then i made almond agar. then i made my cosplay stuff. man i did A LOT on this sunday. has been very fruitful. oh and i managed to eat the munchy donut denzyl got at causeway's cold storage on saturday night. yum!
k let's see, i'm so proud of my big obi and ribbon!! yays! it looks so neat. but the satin ribbon overlays are getting haywired since i snip it in half for a smaller width. i bet it'll be fraying mad when i get it to wash.
i completed my so-called flouncy skirt with the trimmings too.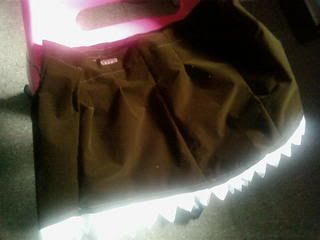 was a bit big and not very flouncy but flouncy enough. uhhh i did my best. don't really wanna redo!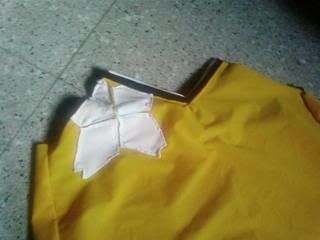 sewed these petals on but it looks a bit distorted. oh well.
trimmed the hem so it has a wide v-shape at the bottom and is a little longer than the skirt when worn over the skirt. not very straight but guess should be alright. these stuff are so hard to measure... maybe i should learn how to use a measuring tape next time.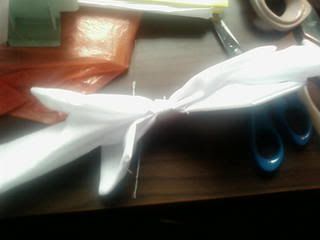 this is the bow which kureha wears on her hair. intend to get a white hairband and glue it on top, or use a satin ribbon instead of the hairband and sew it on, whaddya think?
did this while watching ugly better. the x-stitches are pretty obvious but it still looks quite nice. and sturdaaaaaay. need a green pearl button next!
*yawns* ewww my phone cam's colors really make it look awful, except for the choker. half-decent, as bahamut would say.