Day 2
Actual performance day! Wow! Woke up around 7 and thought we were gonna be late since the gathering time was 9am (930with the leeway Lopez gave?!) but in the end, everyone was late and we only started around 10+am. ms just got up, and his hair looked like the guy in the arigato gojaimasu mv person - i couldn't stop laughing. lol. helped style his hair a bit before we went to the rehearsal area.
yurineが褒められて嬉しいです。 err but maybe it was probably only positive greetings?! lol I was so scared I wouldn't be up to standard :( the wig was heavy to wear because it was made up of 1 main wig, 2 ponytails and 2 extensions, but my back hair kept moving to front, making my extensions seem very bulky urghhhh and the goggles keep falling down, covering my eyes. didn't really have other ideas on how to keep them up except to spam pins. (I hardly full test my costumes oops)
at the rehearsal place, only karas team was there, aiyoh! there was a little taokaka there, and she was pretty cute. i was very shocked to hear all the guys talk about the color of underwear she should be wearing though... and when she helped arrange sephiroth's hair... sephiroth buried his face in her boobs!!! he then told me 'namja ya' - and what?! he's a guy?!?!? what the!!!! and gosh he/she talks like a girl too!!! x_x omg i just got screwed. LOOK AT HOW CUTE S/HE IS!!!
since there was nothing to do i went around taking pictures :D
first with my idol! this is my most favourite picture taken!! *_*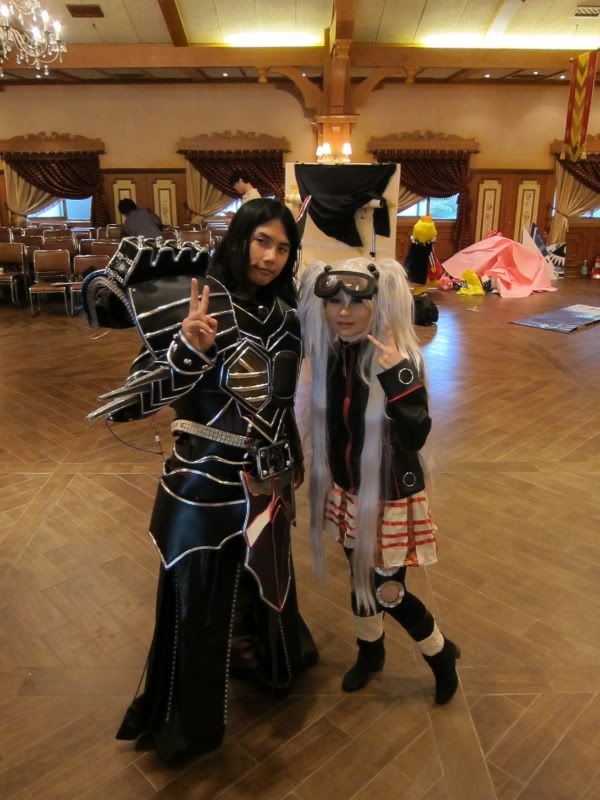 bwwwwwwwwwwwwwhhh rain was otoha (eh these guys seriously don't put in any effort to look like their characters... x_x) and ok i know you have big chest, but don't need to stick it out right... ehyrrrshhh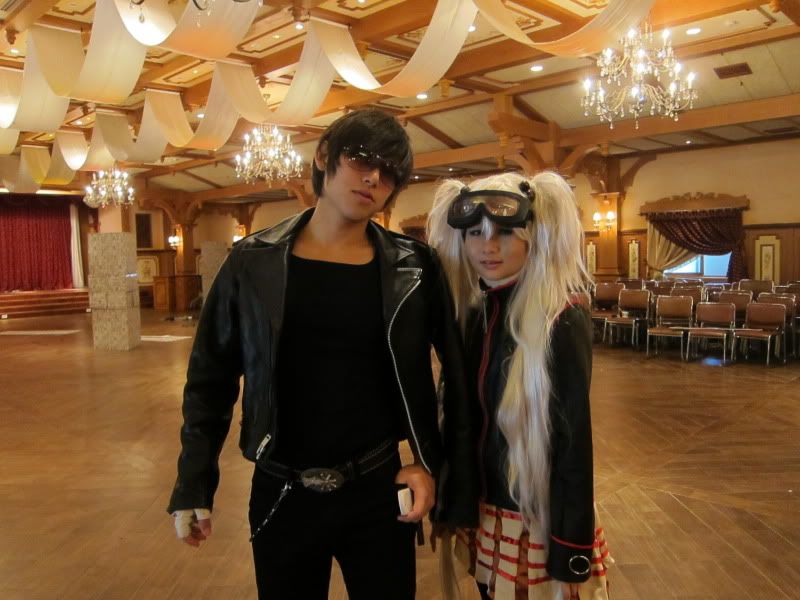 he threw his sunglasses to me and i became rain for a while.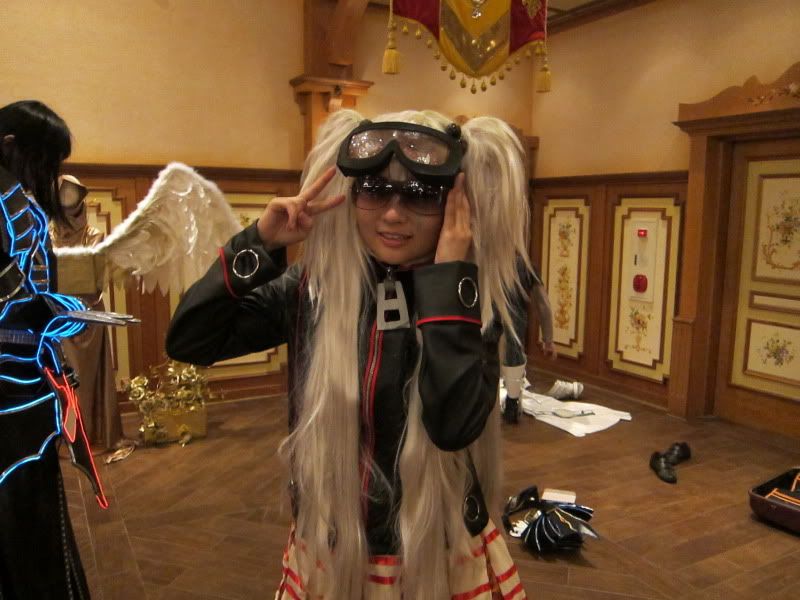 when the glasses were on ms, he totally became neo.
and then with Neo, from matrix. joked about me being trinity, and 0 to do morpheus. LOLLLLLLLLL agent smith leh?!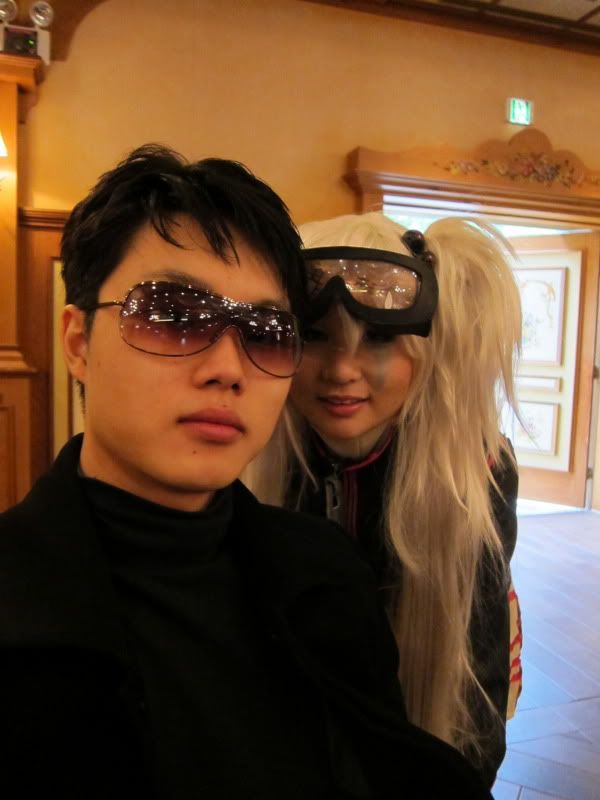 anyway, ms wanted ice cream, and as we were still considered pretty early even when it was already 1030 or so and there don't seem to be any rehearsal taking place, we went to walk around the park to get dippin dots. It's actually where he worked at, and he kept saying that he felt very embarrassed to go back since it was his day off. Haha. Chocolate dipping dots on him, yay!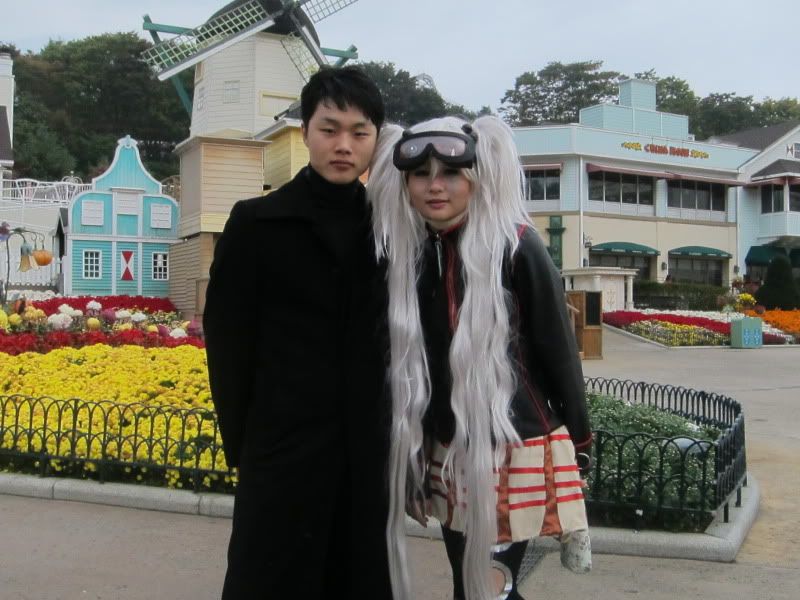 We then went back to see everyone nua-ing there in half armour lol. jimin was sleeping in his armour...
and 0 was just sitting there switching his armour lights on and off...
=.= wake up!!!!!!!!!!!!!
Moved all our stuff to the performance area and followed up with photo taking session at the garden.
0 was like the main attraction there because his armor was so freaking awesome although he was called kamen rider robot monster and whatnots by the little kids lol, and jimin's white armor was also popular too. Ww feels very honored to be standing with them for photos! Ww (was feeling fat and too big to be yurine even with all their praises) the only disappointment was we didn't much get a full team photo because when rain was there ms wasn't and the other way round, and it seemed like rain went off to take care of luggage and ms wasn't interested in taking photos as he looked like he wasn't cosplaying.
i managed to get these from saerom on 18th nov!!! LOVE HER!
photos with random kids!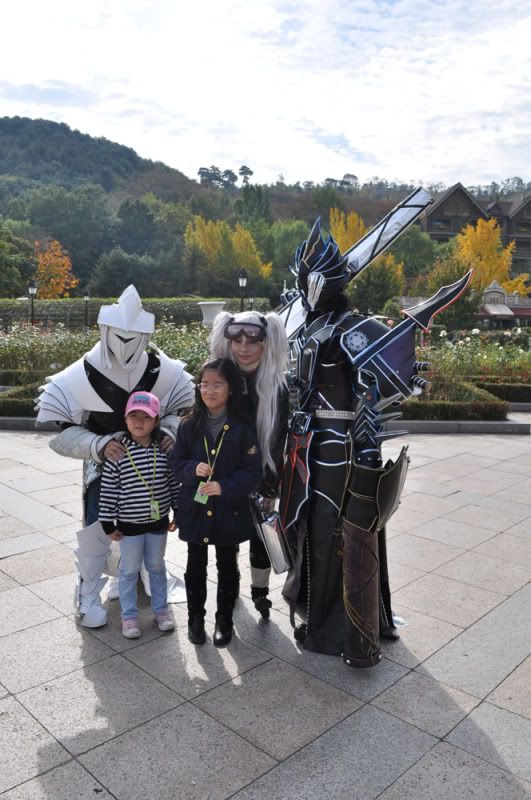 the 2 armoured extradinaire
and finally an almost complete group photo T_T
We wrapped the whole session with a group photo at 12, before we walked to the performance area.
Karas was the 4th to perform, but I was too damn nervous even though it wasn't even a competition. Rain was the emcee and he joked about emphasizing on karas when announcing the performance. 다섯,내,새,둘,하나 , Aja karas! And i managed to get the video from Arsene! All credits to WonderCosplay.
WCF Korea 2010 October - Karas Cosplay Performance from 비.田中 on Vimeo.
was too bored and made a slideshow on it lol
And a finish hugs! お疲れさん!
Realised i didn't coordinate too well with rain T___T i'm sorry...
but still, I got an armor hug ♥
0's armor totally got destroyed by jimin, one of the plates fell out when jimin flipped over 0, but whatever it is, everyone was just awesome!!! Whee~~!!!
0 took off his whole costume since it was pretty tattered and we went over to the other side to find Saerom. There was a long sailormoon performance going on and we waited till everything was over before we all gathered on stage for the results and group photo. 0 stayed behind because he didn't want to appear in his retro shining purple inner costume ( I thought it looked pretty cool though!) There wasn't much deliberation - the results were announced immediately by rain.
And last but not least, there was also the best costumes award going to the persona team. Very unique costumes (even though I prefer saerom's) I'd say this team would be the next best to get the award - I think they probably didn't want duplicates in the seeds so everyone gets a prize.
The best performance went to saerom's rg Veda (sorry I'm skipping a lot of teams) - I love their costumes!!! We looked at it in closer proximity an it was just very intricate. All I can say is their performance was as beautiful as them - and I'm glad they got the best performance award in the end, even though I rooted for them to be the representatives.
The representatives this year was monster hunter, their costumes were freaking awesome, though I've never seen it in game. Saerom's right, in the end it's hard to triumph over a monster Cosplay, especially if the monster gorilla is as well done as this one - it's huge!! And they even have wing activation for the final strike... Woo! Definitely waaaay better than our monster hunter.
thanks to val for the group picture :D:D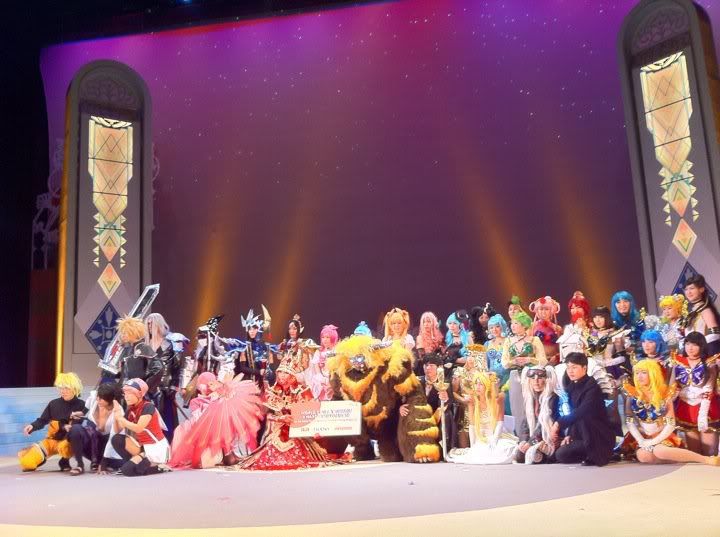 After the whole thing, we packed an moved our things back to the rehearsal area, where there was a short introduction of all the overseas cosplayers and Korean wcs representatives. There was even a Q&A session for the attendants and they asked about our age... Zzz it wrapped up with a short social interaction before we went off to change out and get ready for dinner at 6pm.
some more pics before we left~!
team singapore hurhur
and with shizuoooooooooooooooooooo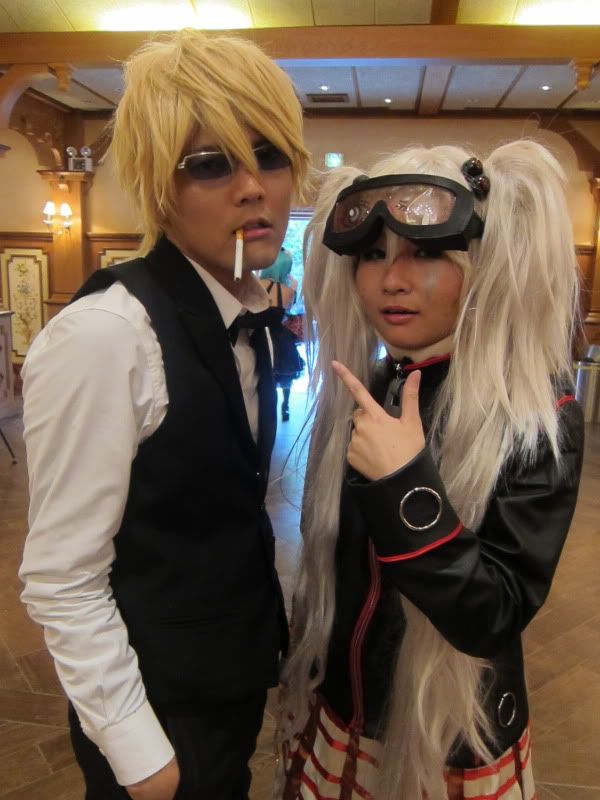 Dinner was BBQ!! Haha! Seriously they really attended to or every requests, and I felt so embarrassed and overwhelmed by their hospitality. took some last minute photos before we departed. got this video from caruto!!