Day 12 (26th July 2011) - Fujisan, Shinjuku JR Line DRAMA!
According to She's research, it is actually pretty easy to climb Fujisan. In fact, it's not really a climb but a long walk, as the government has paved the way for the people up hill. The walk will take 5 hours, and there are shops and huts along the way so you won't be bored. Also, travelers frequently stop at a hut till about 2 am, then continue walking upwards to watch the sunrise at 4am. All you probably require is a good pair of shoes and a good partner to walk with (I think) - both of which I was missing at the moment, so I will definitely not climb it. Gosh, 5 hours walk with this idiot will most probably drive me nuts with all his nonsense self praise, illogical retorts, irritating insults and head whacking. I'd rather sit alone for 5 hours somewhere, or return town to shop.
So we got up at 6 to prepare and left to get Mac breakfast and catch the train at 657am on the Ginza line. This was gonna be a long 2.5 hours journey, with 3 transfers. We bought our tickets at Asakusa's Tobu Travel office (can be gotten at JR's Midori office also) at 4.5k yen each to take any JR lines within Tokyo to Otsuki station, then transfer to Fujikyu line to go Kawaguchiko. It's already 10am when we reach this station, due to a slight delay. There, we needed to top another 1k yen at the ticket office to get the bus to go to Fujisan-gogoume 富士山五号目 stop, the highest point you can reach via public transport on the mountain. Takes about an hour to reach the place.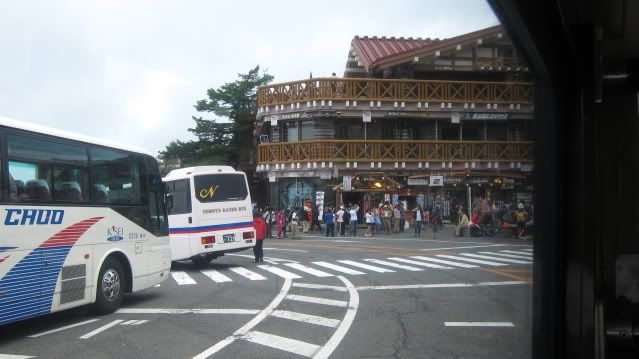 and here's where i am, fifth stop!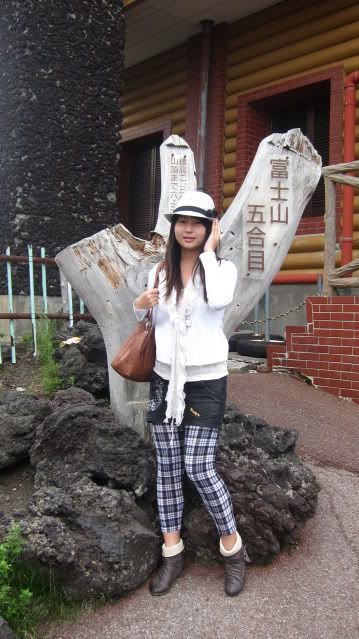 if you're too lazy you can get horses to move you up too. giddy-yap!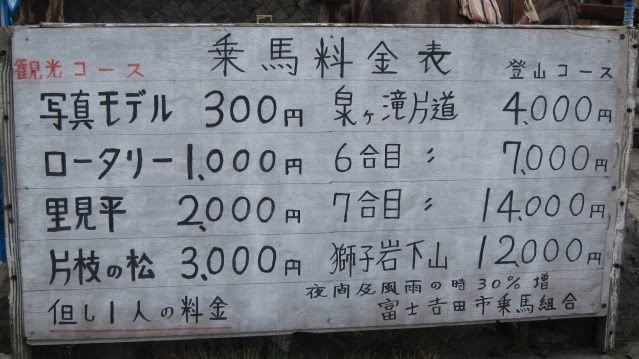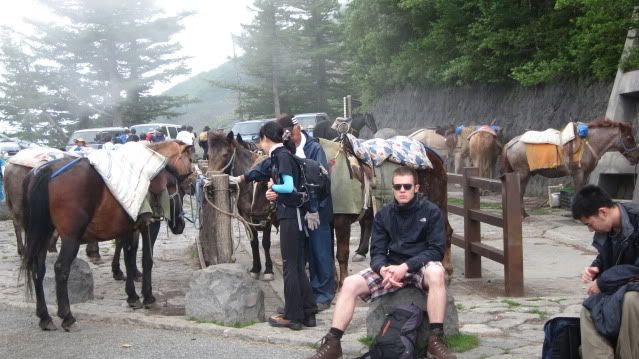 There's pretty much nothing to do here if you're not climbing the mountain, so we walked the souvenir shop
and ate a terrible meal at the canteen (don't ever eat there...!)
There's some museum but you can see everything from the outside without paying the 100 yen entrance fee (too lame to visit too)...
got some good views up there though
and below it there's a shop that sells a very nice Fujisan melon cake! Must try!
The souvenir shop also sells the famed Fujisan air... For 500/1000 yen depending on size... =.=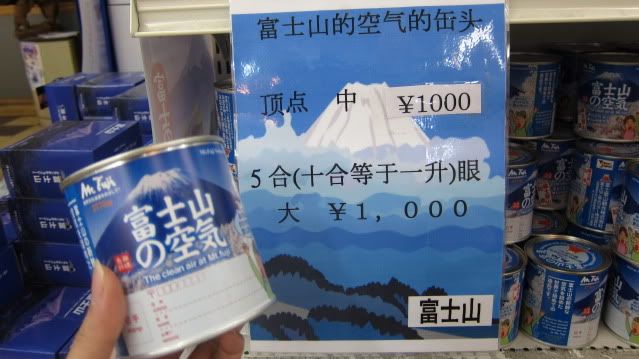 We saw some kids going up the hill in their shorts too, wonder if they are climbing too... o.O
there's a little temple there too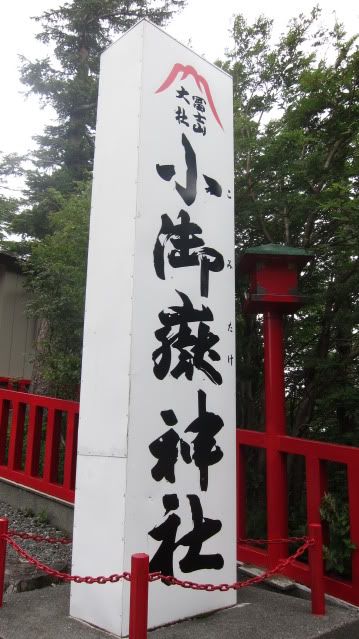 and omikuji in all forms...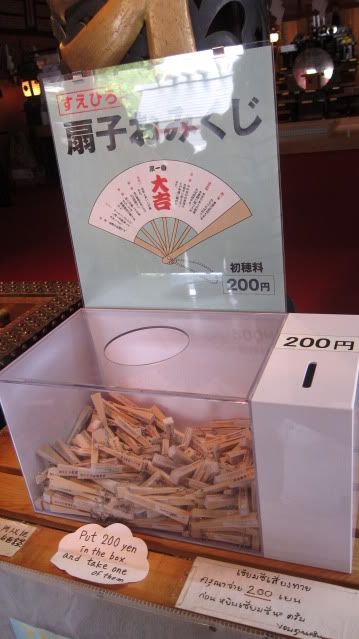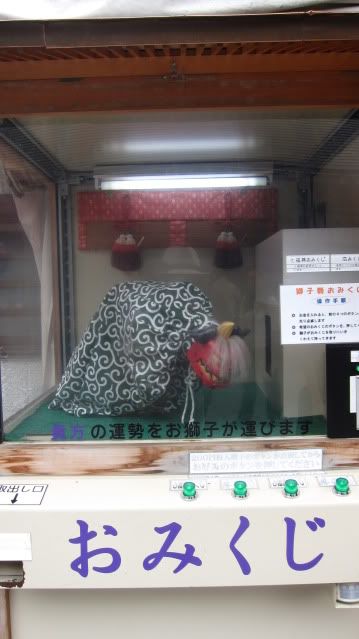 gotengu-chan!
last picture before i leave fuji-san!
On the way back we stopped at Fujisan station but it was just a normal departmental store with a temple entrance.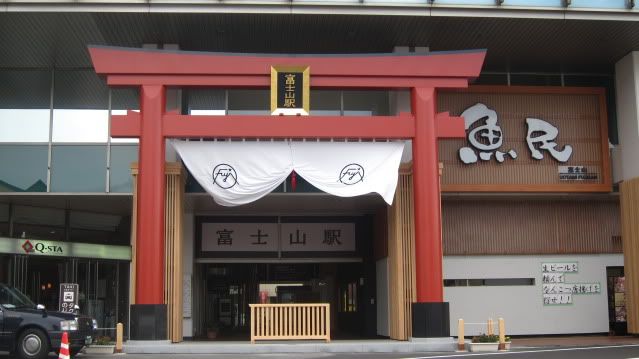 Our Tokyo>Kawaguchiko ticket was confiscated when we exited and it seems we needed to pay 200 yen extra for the special limited express 快速 train that had themed interiors. The statuon master said we could only ride the 特急 ones with our pass. Was fortunate in a way as it only runs once per weekday so we met with the right timing! It Was quite an experience actually as the staff kept bowing to us continuously as she entered and exited the cabin, and she gave us sweets and helped take a memorial picture for us.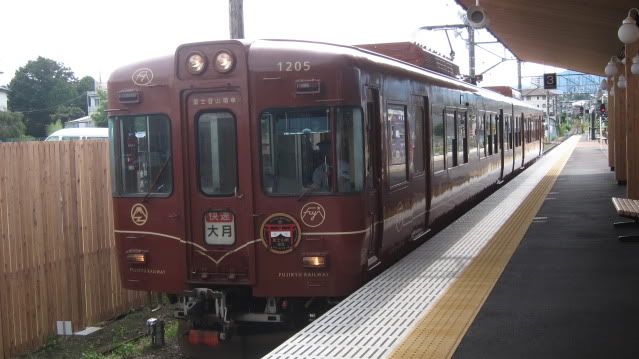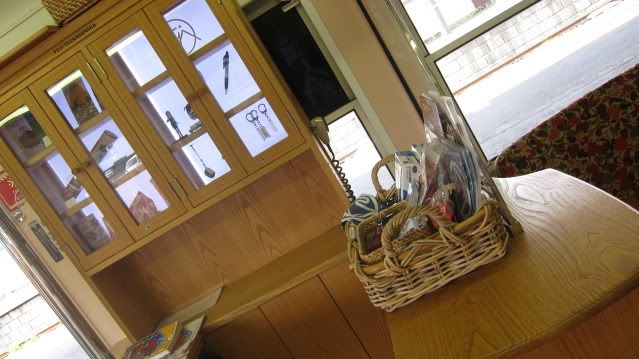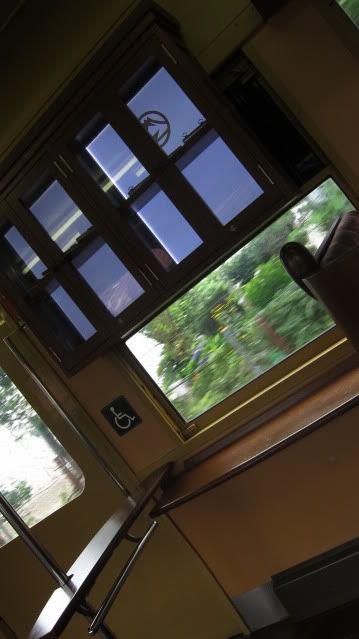 souvenir sweets...
and a souvenir shashin!
An hour back at otsuki, we took the 特急 train back to shinjuku. This was where all the drama happened. before that, some pictures of the interiors. eeks. why i bother promoting them i don't know.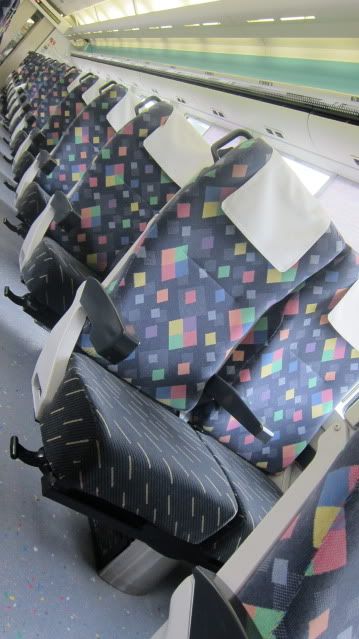 The conductor was checking our tickets and told us that additional charge was needed for riding the train. As we weren't aware, we thought we could just get off at the next station so we didn't have to pay for the whole trip. However, it seems that we had to pay up to the point we stopped, which was 500 yen additional each.
As we were given different instructions at the fujikyuko lines and now I tried to explain to the conductor but he didn't seem to care or didn't understand and kept demanding us to pay. He also didn't let us off at Hachioji when we said we could get off and go back to Otsuki if he thinks we have gained additional time via this train. He said we have to take the train to shinjuku and pay the full 900 yen. However it is not out choice to take to shinjuku and pay the full fare so we demanded to be let off but he didn't allow. Left without a choice, we were told to stay till shinjuku to speak to someone who knows English to settle the problem.
At shinjuku, the conductor brought down a Chinese-speaking train personnel whose Chinese was really quite terrible. She explained the whole thing in Chinese again, but the so-called manager, named 石塚, with the position 内勤助役 (literally kust assistant officer to internal affairs) beside him only offered one sentence 'go police'. We demanded in Chinese to speak to someone with higher ranking, as it was obvious he only treated us like kids and kept using police to threaten us. We agreed to settle it at the police as we think it will give us an opportunity to clear ourselves.
石塚, a man in his 50s probably, speaks with really bad breath. (well, if you're customer-facing you should be more aware!) he then brought down a girl who spoke English (but we still ended up using Japanese) and I explained again, and still this guy gave the same conclusion - go police. He also didn't believe when we said we asked to be let off at Hachioji, and said the conductor denied it and even said it was already past the station when we asked for it. What a load of crap! Frustrated, we told him to bring down the conductor and we all clear it at the police, but he wouldn't bring him out. Also, it seems that the girl will be our translator should we go to the police, which just doesn't sound fair to us!
Halfway to the police, 石塚 suggested that we pay the 500 yen instead so we could settle it. But we were so insulted we said we would rather settle it in the police if there's a translator who would hear us and let us have a free trial. He then insisted that we would have to pay whether we go to the police or not, which was just ridiculous - it made it seem as though the police would never listen to us, and the conclusion will be that we would have to pay no matter what.
In a bid to threaten us further, 石塚 brought us to the police box that was within the train station. However, the 2 policemen were just idling inside and they weren't even able to do anything, because they immediately sent us to the shinjuku station (which we have to walk to).
Before exiting the place, we checked if we needed to pay re-entry as our pass allowed us to exit the station and we were headed to Shibuya. But 石塚 said we have to pay for re entry, which was again, ridiculous to us. Normally if you are the station master and you want to settle this quickly you would have just dragged the guests out instead of haggling over such nitty gritties, and he seems determined to make our lives as difficult as possible!
I made a quick mental calculation because if we didn't buy the pass we would have been able to take this 特急 train to our destination at just 2.2k yen per trip, now with our return pass of 4.5k yen, not only we couldn't take it but we have to pay an extra 900yen? Then what would the pass be for?? And we have to exit and pay another 200yen for re entry. It was just too stupid. As much as She wanted a tour of the police station, I'd rather pay the 500 yen and just proceed to Shibuya since everything was getting way too expensive. On top of that, this 石塚 said if we didn't pay at the police station he was going to sue us, since it is a law to pay if you take the train rides. Hello JR?? Are you going to let a bad-breath, lying, self-proclaimed 'manager' waste thousands to sue over a mere 900 yen?? I guess this is really the Japanese way of doing things ain't it?
To make our lives more difficult, 石塚 refused to let us pay 500 and demanded for 900, saying the offer was invalid the moment we rejected it. We argued for a bit before he finally gave in. It was obvious he was just trying to scare us again. Also if we remained standing there, there is no saying what other passerbys would be hearing of our argument. Still, I wonder if this is how JR personnels are trained to treat foreigners. I can pretty much assumed that he used the same police tactic with every other foreigner who refused to pay. 森山, the english female translator, also told us that because every other person who has taken the ride has paid up, we should also do the same. She pointed out that if every other foreigner kept facing the same problem, shouldn't they have done something about it already instead of letting the same problem resurface??
In the end we paid 500 to get off and have our dinner. took the train to shibuya for a quick ramen at jangara.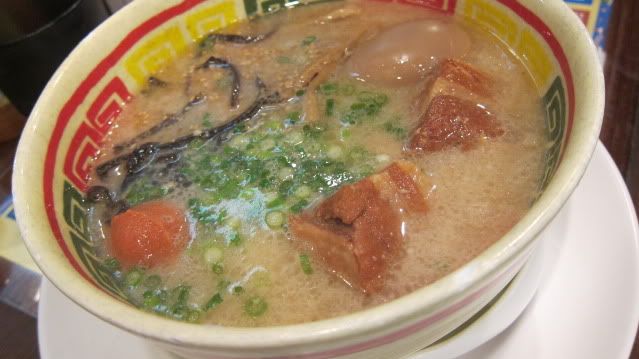 but actually we were still feeling pretty pissed, so guess what we did?
WE WENT BACK TO SHINJUKU TO LOOK FOR 石塚. lol. had a difficult time locating the place we were at but eventually found it. asked the staff for this guy but apparently no one recognised him as the station manager. reckoned he must have bluffed up. seriously, your name tag says 内勤助役! i'm multilingual you know!! so anyway they actually managed to summon him up. but guess what he said as a greeting?
'Go Police!' yep, is that how JR lines teach their staff??? HELLO?? bring everyone to police?? sue everyone?? ALMIGHTY JR. use police as your defence will ya? Of cos, we told him that we just wanted to come and identify him and his name and he immediately demanded for ours also. Gave a fake name and he wanted to check our passport, and She stepped in and gave his real name. bravo. He even showed him his passport number and told him 'Sorry, can't give you the passport number because no one in the states will ever do that.' and She indeed just came from US. It was actually pretty funny to see the stunned expression on 石塚's face, before he stuttered "A..merica??"
YES WE ARE NOT FROM CHINA, STUPID.
And even if we were, did you think you could push us around? Did you think a bunch of kids are so easily bullied?? GOSH. To prove that he didn't falter, he even turned us around and told us that we were being recorded on the camera, and checked that we had tapped our cards in. Oh c'mon, we won't cheat you of that few hundred yen, but you are the stingy ones that's wasting our time trying to hoax us to the police. So we smiled for the camera. KIMCHIIII.
Went off for the night, and She swore to get this guy to the JR manager, no matter what. As for me, i was just severely disappointed at the ill-treatment of foreigners. Having been to Japan for at least 4 times, this must have been the WORST TRIP ever. it made me NOT want to go back Japan again. All thanks to JR lines. and stupid 石塚.