Day 10 (24th July 2011) - Nikko II World Heritage Tour
We finished our walk around 12 an boarded the bus to Tobu-Nikko, where we bought the temple pass (1000yen) and 1-day bus ticket (500yen) for the World Heritage Tour.
This is basically a temple tour... We alighted at the first temple, Rinnoji which housed 3 huge buddhas and continued to Toshogu, the biggest and most elaborate temple of them all.
the best way to attract someone to buy something is to use their zodiac...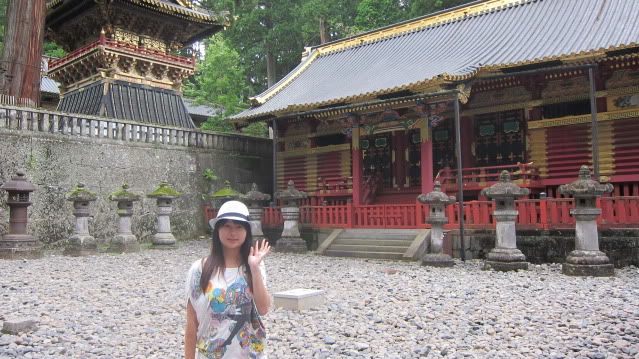 don't know why there's so many sake barrels here...
There was a place with a sleeping cat where an extra charge of 520 yen was needed to enter, and I have been regretting since. Once you enter you have to climb a looooong flight of stairs since it was basically on top of a mountain -.- wondering why I had paid all those money to torture myself. Uphill, there was a mini temple and a 600 year old tree that was supposed to grant your wishes. So I was saying that I'll come back again if it really grant my wishes... x(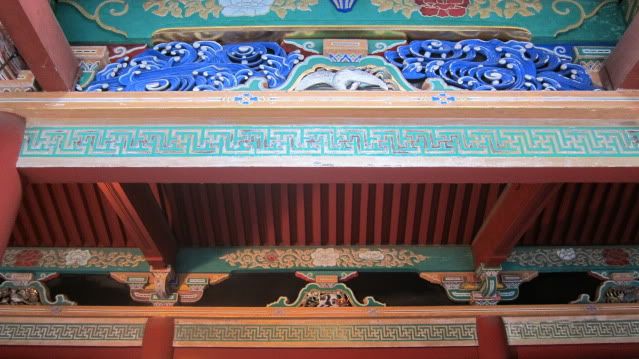 climbing up...
reaching the rest stop...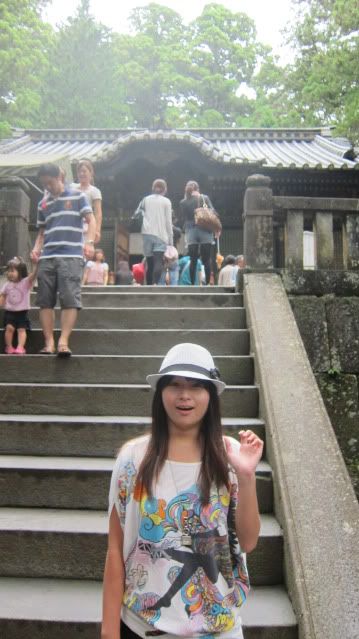 reaching the temple...
throwing money to the tree that grants wishes...
then going down again... =x=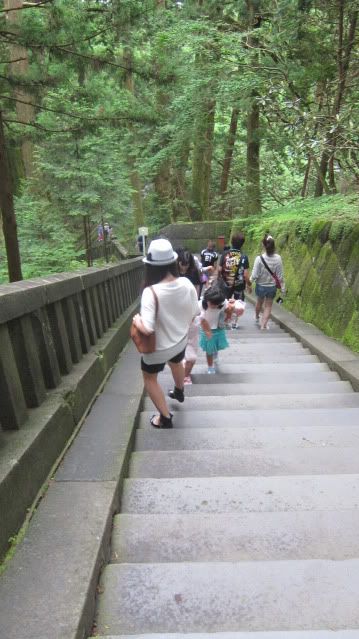 oh this is the see no evil hear no evil and speak no evil monkeys... it's not even a shrine!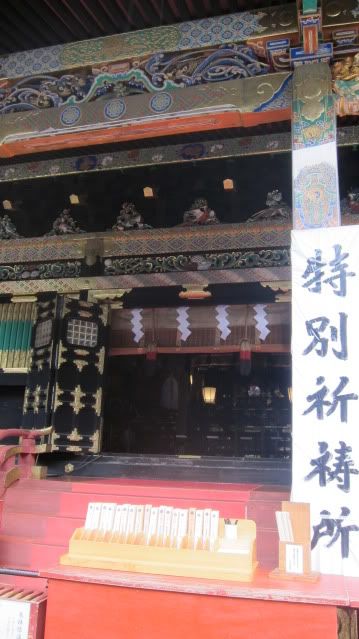 Walked around Toshogu shrine and next to it was the futarasan temple (I'm a bit confused between shrine and temple so sorry if it's named wrongly). The interiors were decorated with gold and is one of the 3 gold temples in Japan.
another temple
As the temples were all within walking distance, we were able to reach the last temple, daiyuuin pretty easily. The water here flowed from the mountain and we used it (again) to wash our hands and rinse our mouth. Gotta love washing my hands here. It's another loooooong climb to the mountain again -.-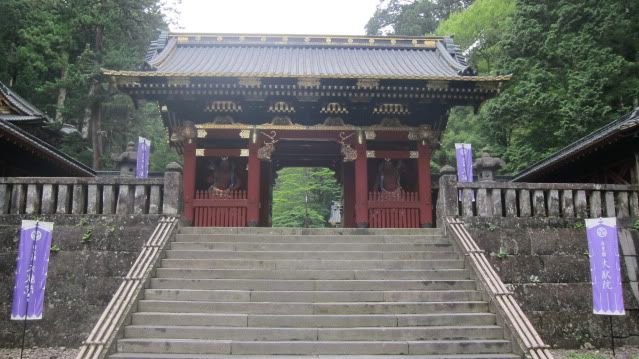 seriously i don't know which temple is which so pardon me if i'm describing them all wrongly and attaching the wrong pictures.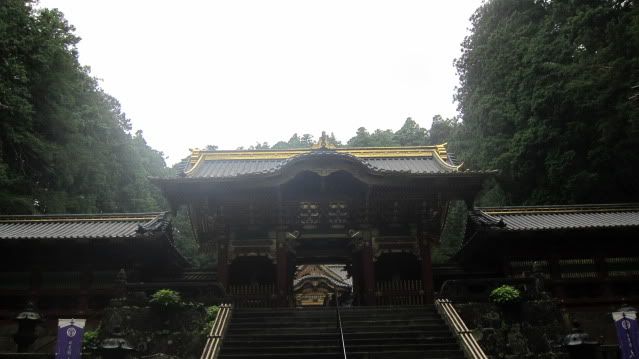 buried temple?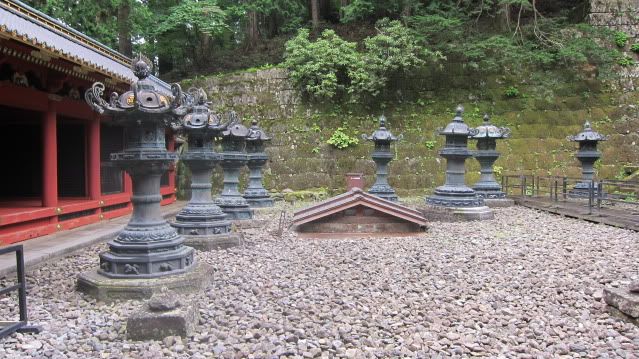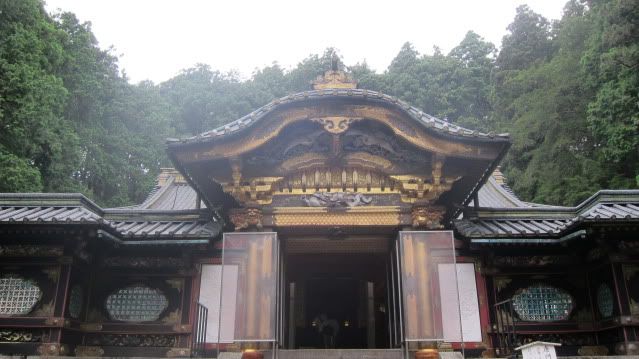 mountain water...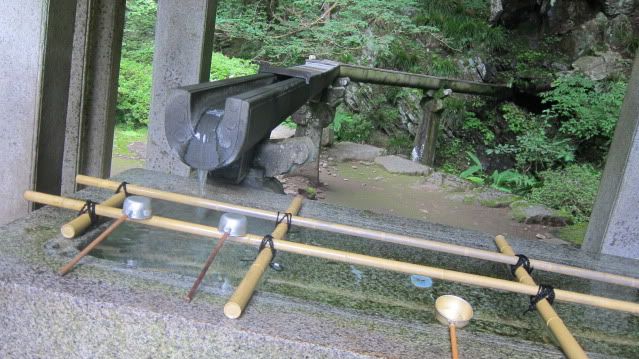 Seriously the temples or shrines all look the same to me zzz this will be the first and last visit I'll ever make here.
on the way out saw an omiyage shop selling some cheese egg tart thingy.
We were done with the temple tours just around 330pm, so we headed over to shinkyo 神橋. Turns out you need to pay 300 yen just to cross the bridge (o swear I could have cursed out loud at all the paying you have to do, if this wasn't a holy area). Whatever la, it will be the first and last time I'm paying to cross a bridge!!! Zzzz
bridge materials and history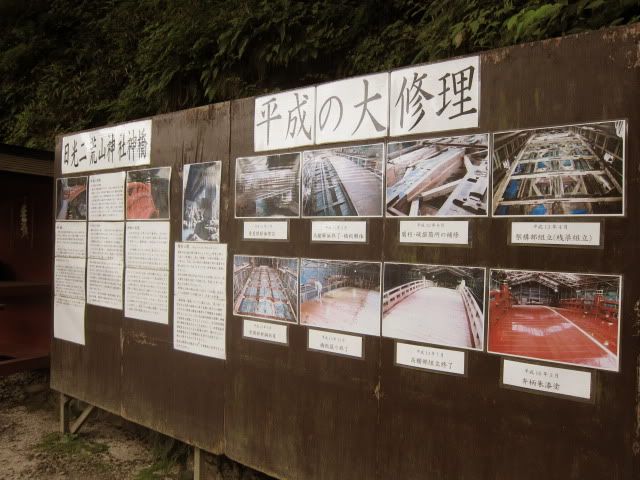 more bridge to get the yen's worth...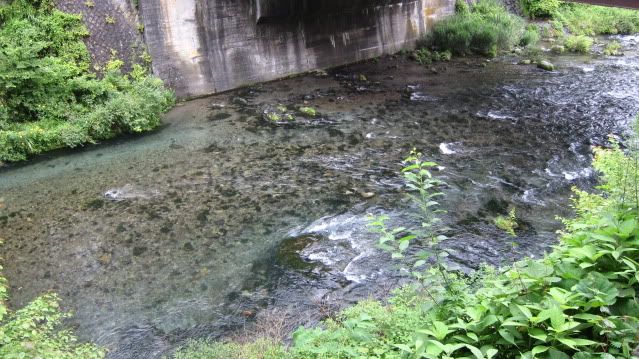 Wrapped up our holy tour at 4pm, and walked around the souvenir shops. Unfotunately I was only left with less than 10,000 yen for the next 3 days for both of us, so we had to control ourselves from buying anything. And no one takes credit cards here!!!
One of the souvenir shop had a really huge cat inside and the owner says that there's 3 of them, and they didn't expect it to grow to such a size. Looks like a little tiger to me!!! 
When Yoshiko-San came over with our luggage, we left over to asakusa at the 4.59pm train, and reached our hostel around 8pm.
Had dinner at KFC and a redeemed our free drinks at the Khaosan bar, a small little cozy shop. We got a sake and plum wine but both tasted like medicine (@ ̄ρ ̄@) after that we played the jackpot there for a while - and I got a strike! 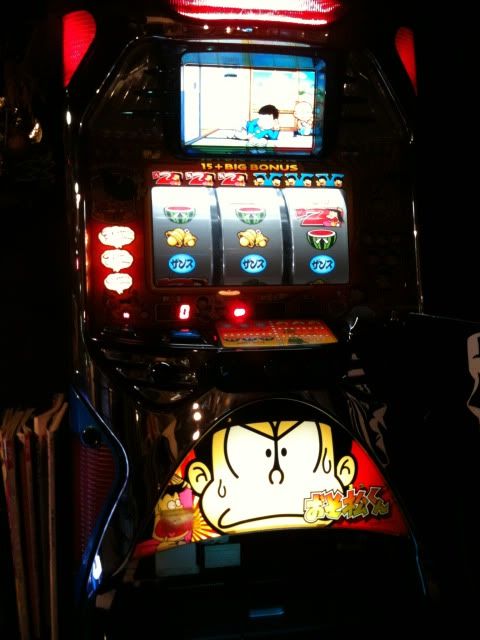 dinner is KFC...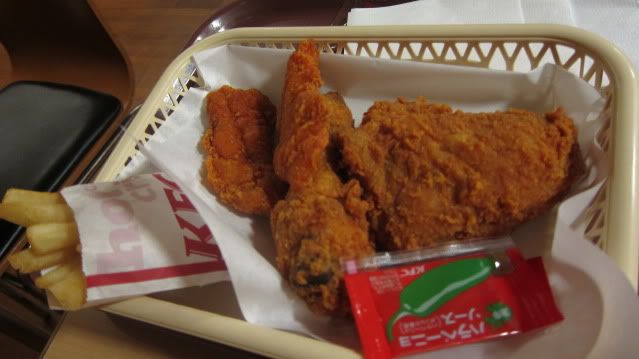 Rested for the day to prepare for tomorrow. I got the lower bunk this time since we had new bedsheets.