finally got down to spring cleaning!
i have a love-hate relationship with it. after waking up around 1pm today... i dragged myself to clean out the piles of rubbish i have on my table... in my cupboards... everywhere. i have so much things that i couldn't bear to throw away because of 'their possible usage in the future'. it's always 'i could do this with this...' and then i kept it. so that's how the things just grow and grow... and grow.
today i managed to tell myself to JUST throw. the africans are not likely to get your food if you don't finish them. and you're not going to do whatever you want to do with them eventually. SO THROW. and i did throw about 3 big bags of stuff away (which was later ransacked by random people downstairs =.=)
the process is actually pretty funny in a way because i discovered a lot of funny stuff about me since young, and i sort of tweeted them along the way.
i realised that i used to like 赵薇 because of 还珠格格 and i bought her cds. inside there were all these funny pictures of her in weird hairstyles that i find so strange now!! since i didn't like her now and the pictures were just fashion disastrous, i threw everything away.
then i also liked the japanese group called Speed, and i had a stack of mini postcards. another fashion disaster, and i wonder how old they must be now... no further use for a group i didn't like anymore. so off you go!
i had this mooncake box that stored all my seagulls. when i was in primary school i wrote pieces of diary in them and folded them in. reading them, i felt that i was a SUPER emo kid back then that troubled over relationships i probably didn't have a clue about. oh, one of them was on my pet tortoise called Xiaogui that died in 1998. so cute.
then i also folded every single tickets i got from buses. i had a lot of them but i seemed to have either thrown, pasted somewhere or gave to someone. or maybe i had made something out of them... i can't quite remember. but i still have some of them. back were the days i could fold these tickets into a nice little heart using just one hand. think i'm still keeping it so that i can do something with them (yikes bad habit dies hard)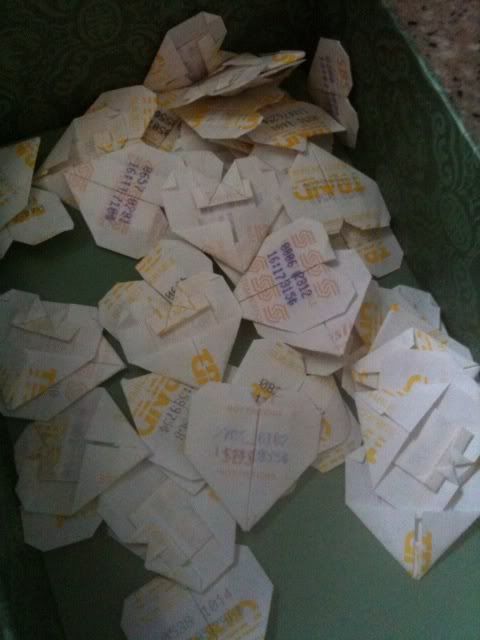 and then i have a whole bag of hearts that someone gave me, with little notes on some of them. i remembered i told him off, asking why it was done on foolscap and scrap paper. but then i still can't bear to throw them away. oh well.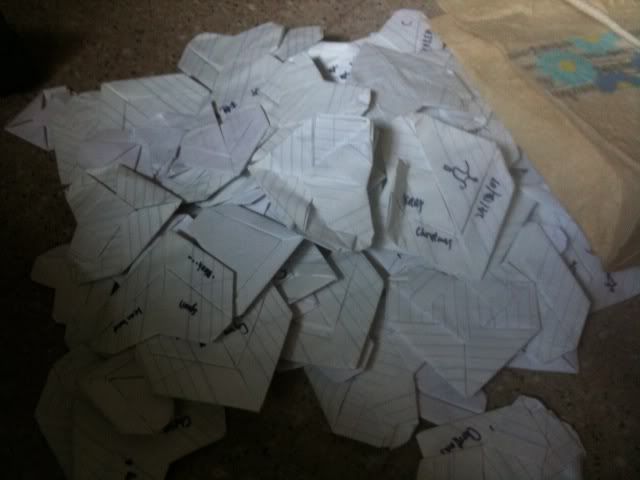 i also collected LOTS of stickers in primary school, and these were those that came in packs and you had to exchange with friends to complete the collection. seriously, why on earth did i spend those money... i had so many of them, from barbie dolls, sailormoon (and 2 books of them at that), batman, power rangers... and even the disgusting insect collection (i think there was some kind of reward if you could complete it, but i never did. always around 98% for mine). not sure what to do with them... and seems a waste to throw...
finally me and my sis cleared our clothes... and we have one HUGE bag of it. $1 a piece, anyone!? Too lazy to auction them off...
with the old stacks gone, time to put on the basic mat for my storage. i reused my titanic, leo dicaprio, harry potter and rain posters - all of which i'm not crazy over now. so these posters are now off to a good use!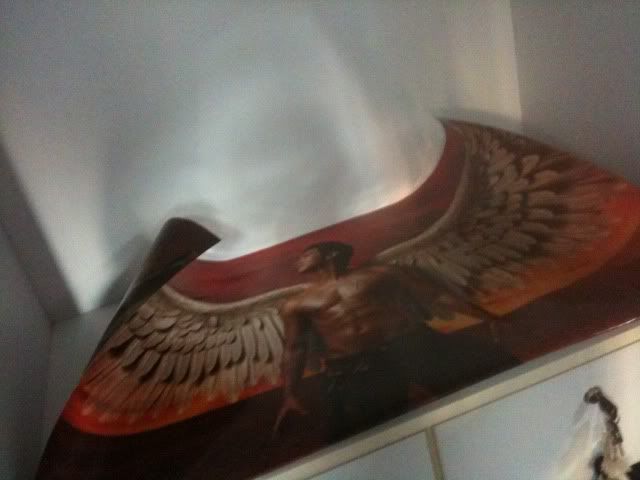 and after about 6 hours of work... finally get to rest now but i'm not all done yet... arghh....!!