and then over the weekends i chionged on yurine...
managed to cut her wig on sat - see the before and after!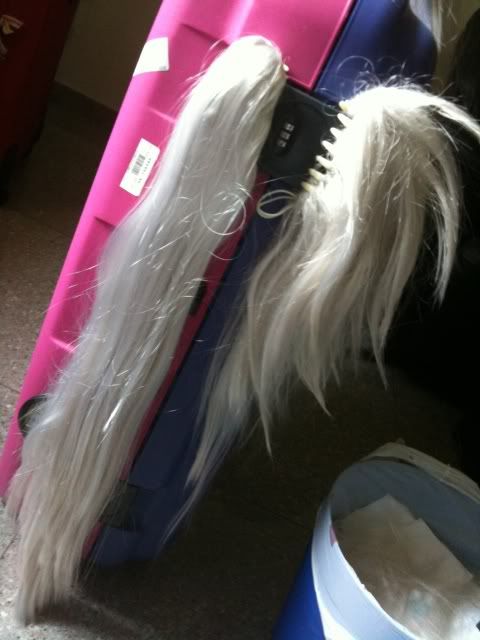 back comb + hairspray ftw. i even got into trouble with my mom because i left hair fibres all over my living room. oops. one mistake to not commit for cosplaying - making a mess and not cleaning up, because it inconveniences others. even knowing that, my cleaning is never clean enough for my mom. oh well.
i feel so sian when i finished one and know that there was another side that i need to cut.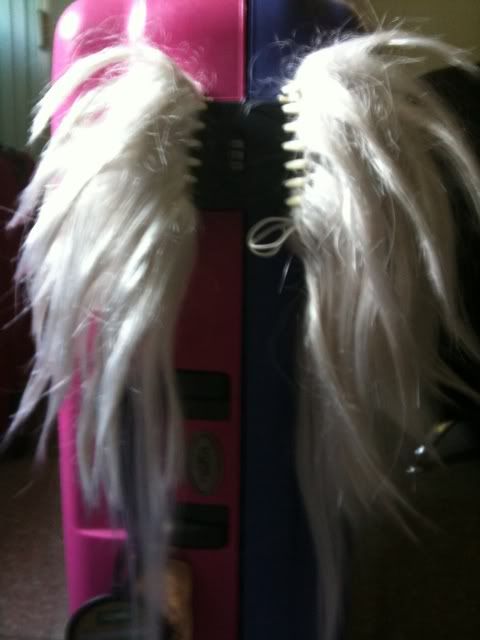 and when i finally finished both sides, i tied on the long extensions and clipped the ponytails on the main wig to see how it would look like: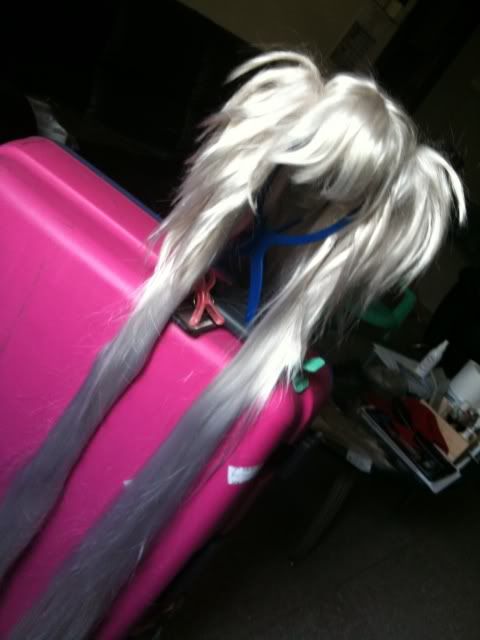 not bad! reminds me of when cutepetz did her shugo chara character... and stella's rachel from blazblue. quite similar style no?
i also bought a permanent marker and drew on the eyes for her goggles. had to trace it from my pc screen first.
blue paint was found from some colored glue, and white paint was correction liquid. lol.
then i pasted it on the inside of the goggles to complete the prop.
then on sunday i worked on the freaking skirt. UGHHHH i hate the skirt!!! i made so many mistakes and it took me a much longer time to make it.
#1 cutting from a thin cloth
#2 worked on the thin cloth and tried to iron it
#3 pleated and sewed on the wrong cloth and had to unsew and pleat and sew again
#4 bought another thicker cloth to work on and pleated and sewed it on both ends
#5 undid one end of the sew because i needed to paste the red ribbons on it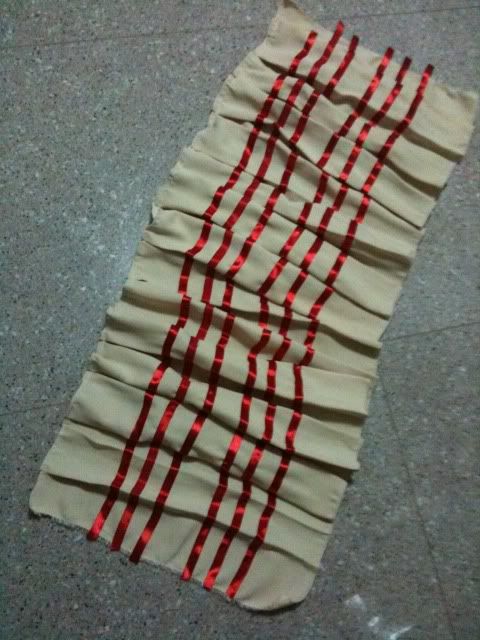 #6 undid the other end of the sew because i needed to input the brown parts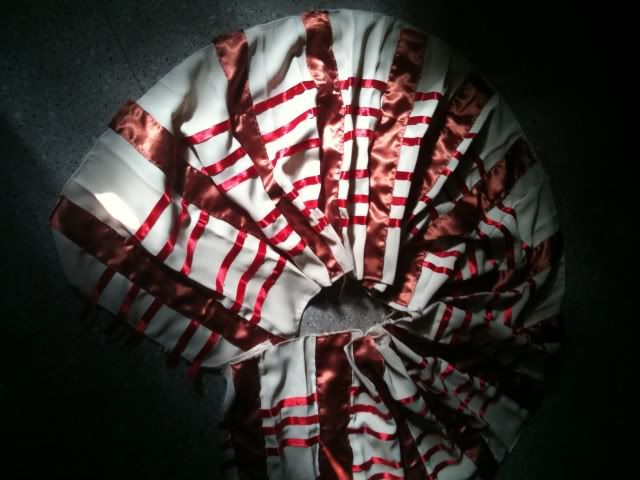 #7 resewed both ends and realised i should use the thin piece as skirt lining so i undid one end of the sew and sewed on the thin layer
#8 thin layer was too long in width, had to cut it away and also in height - folded it in and sewed on. uhu glued all the yellow parts to cover the sides of the brown so it won't flail uglily when i wear it.
#9 sewed a hidden zip for the outer layer and realised i sewed the zipper on the wrong side!!! resewed this side
#10 sewed the other side for the zipper and realised my red ribbons didn't get folded in nicely, and my right side was longer than my left side!!! untacked and resewed
#11 sewed on a hook and realised i measured the distance wrongly, so i sewed on 2 hooks =.= lazy to remove the wrong one...
and then it's finally done... gosh... tedious. never knew this simple skirt can cause me so much trouble zzzz