good luck at the 7days 6 nights camp, to all NTu freshies. UGH. just the thought makes me curl with apprehension. i can't even stand 1 day of camp for goodness sake...
ah well, zhifu carved his heart and soul into the emblems before he left and i thought they look pretty nice! now i have 4 of them but i'm only gonna use 2. some of the undersides are still burnt and bubbled, but it's not very obvious. ok, i'm not a sucker for detailed details such as these, i am not a perfectionist... for now at least.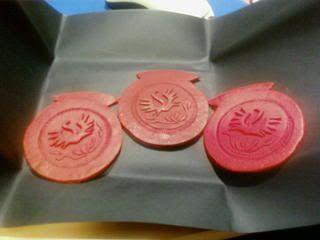 i bought these paper clay and it turns out to be so much softer and usable than that stupid white clay which hardens in a minute and chips in seconds. at least i could knead this one for about half an hour or so before it hardens slightly. i guess this clay is usable only on this kind of supposedly large and flat surfaces. the surface is not smooth, but then again, i'm not a perfectionist. heh heh (ok, i'm lazy, but heck)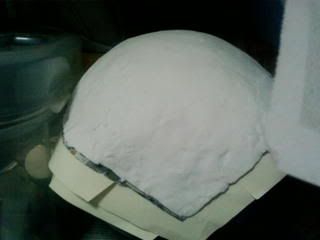 and finally i went to daiso to get this material which i thought might be suitable for my armour base instead of the foam (foam is so expensive). this costs only $2 and enough to make 2 armour base.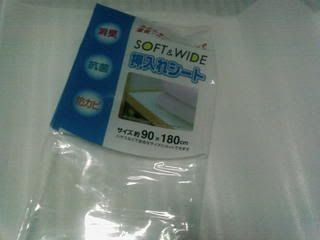 however, it is feeble and tears easily. at least it's still better than my newspaper base. haha.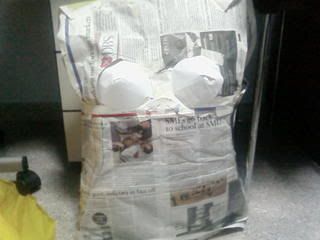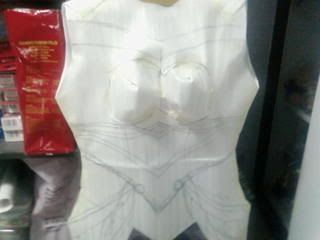 go on, laugh all you want (-_-`) i know it loooks disgusting and eeky, you can't imagine how i have to put that on and strut around for my measurements (i seriously don't know how to measure with a measuring tape). (gosh, why does lenneth hav big boobs??) i've done some sketches so i know where i can roughly cut and where i can put the transparencies to toughen the exterior... just hope it works.