OH MY this is my 1,000th post!!
well anyway i've finished my alucard! taka cosplay was a smasssshhh... except for the policemen who just wants to ruin our weapons by pasting silly stickers on them... pointless stuff.
here's the finished hat! i changed the strips so it looks more like the picture now: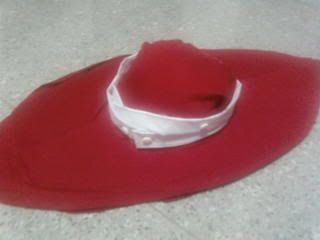 well are you DYING to see how i look as alucard? i'm not gonna post many... only selected those that i look nice in... don't view in the night! HAHA.
and zhifu did a great job as father anderson! YAY. some people mistook me as edward elric (ok, i'm short) and jiro (black blood brothers) but it could have been worse without anderson! oh, and spray paint DO work on hair! zhifu has just proven that it is easy to wash off since it will turn to bits. WOW.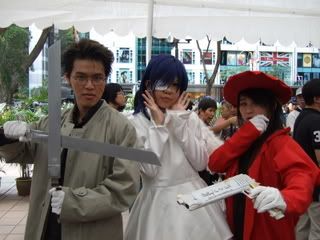 with akito (peggy) from air gear she did a pairing with kyoist... oh my god she looked damn hot too bad i didn't see kyoist that day!
hollow ichigo from bleach, heard there's a very good zangetsu, but didn't manage to take with him!
with ouran and nana (i think?) shinigami
well if you wanna see more, tell me heh heh i'm too lazy to put all of them.