lesson for jeong ho's costume: importance of tacking.
i virtually tacked all the pieces i have here, espcially those ribbon-like thingy (headbands, hair ties, belts, etc).
so here's his hair tie:
and his headband (can't find the jade yet). tried to make this double sided. the seams didn't get sewn on too well so i had to handsew them later on so the edges won't come out. handsew is still essential even with a machine!! (so you can have single sided stitches.)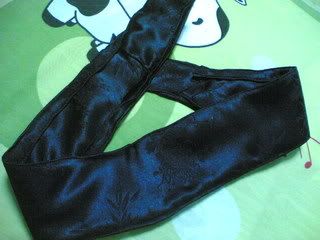 and the gloves.
it's maroon, but no idea why they look so dark.