here's what i've done for kimimaro so far...
his onepiece
closer look at the crest i've sewed on with satin
the back
it is sliding off me rather easily now (-_-`) perhaps i'll put tapes inside to secure it so none of me accidentally gets revealed xo
the shoes
and the purple ribbon. initially stuck sponge and wiring, then corrugated board but it doesn't stand upright and looks very messy and slouchy (i wonder if you can use that to describe a ribbon). then i bought these thick wires for $5+ a roll at artfriend and it works perfectly. can stand upright now! and has the shape i want. :D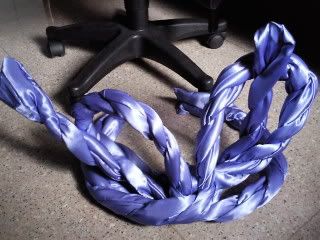 now i only need an abandoned black pants (donations, any?) and his bone sword.