Day 7 (21st July 2011) - Akihabara, Ameyayoko
Woke up slightly later to meet shoko and ben at Gundam Cafe, located just near one of the exits of Akihabara.
Even though I'm not a fan of Gundam (except for the unicorn), the cafe was still interesting to look at. The food was so-so, but kinda expected for a themed cafe.
this gundam is just on top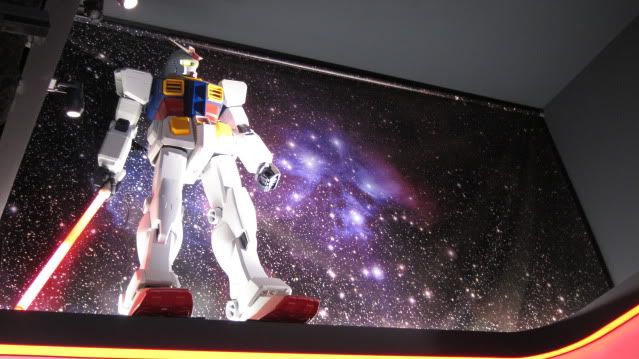 and our food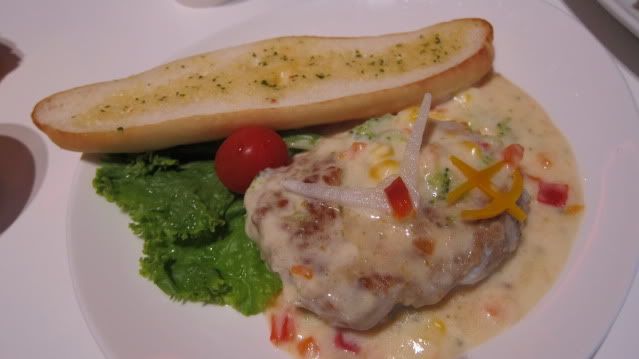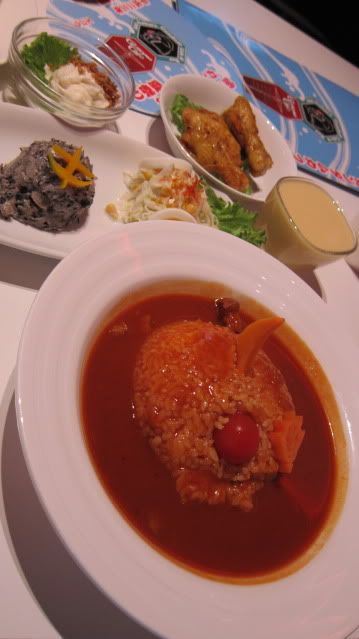 Since we had already finished eating by the time the pair arrived, we went over to maid cafe for dessert instead. I was quite sick of @home cafe's lame dishes so it was good we chanced upon Mai Dreaming, another chain maid cafe. Though the girls were nowhere as cute, the food was WAY much better than @home with a greater selection. The dessert I ordered was a much better parfait too, and the main courses had a larger variety, an looked tastier.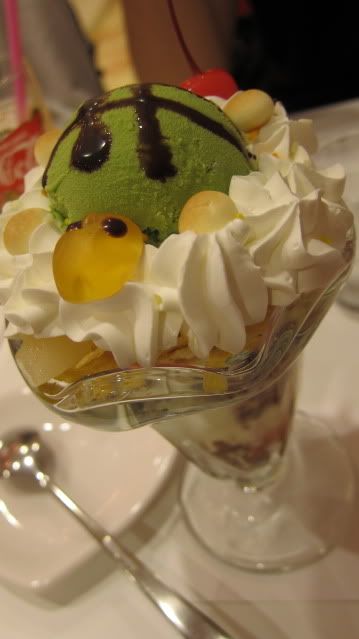 ben and shoko's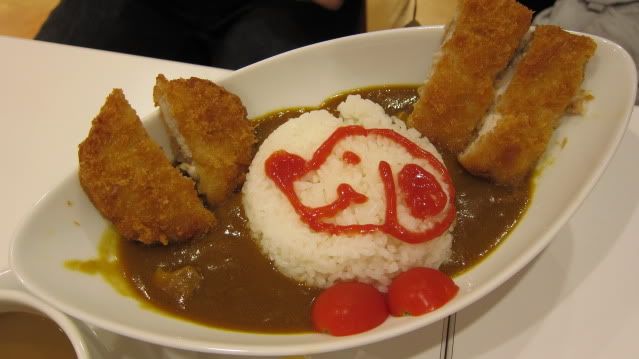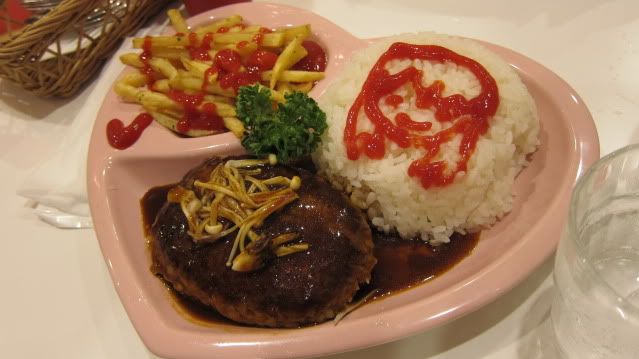 We then took a little walk around Akihabara. I was looking for my Squall figurine and chanced upon Odin Sphere. Nice! Wanted to get some Saint Seiya ones as well but can't seem to find and the rest were already getting bored after a few shops since the things looked pretty much repeated. Akihabara is as usual stuffed full of over-exaggerated porn that never fails to make me sick.
well at least there's some nice statues for us to pose with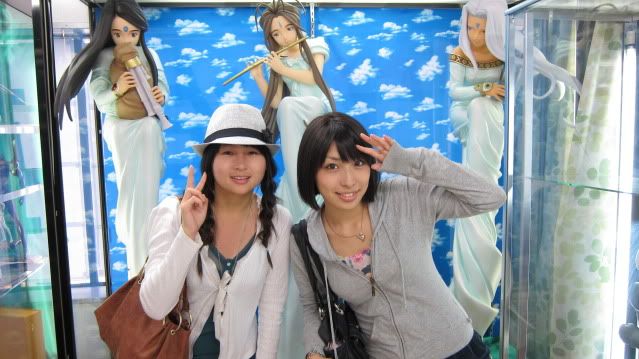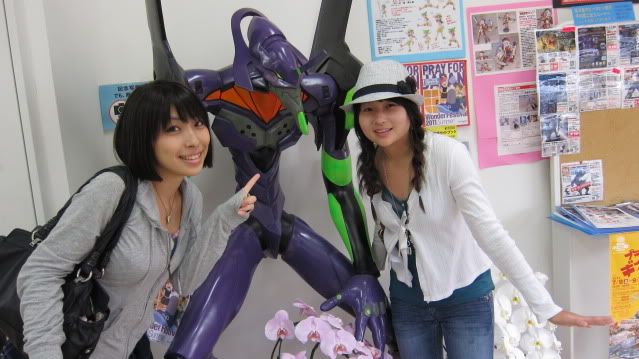 We took a train down Ueno as we got sick of Akihabara, and walked Ameyayoko. At the very start was a shop that sold chocolates for 1000 yen. The special thing was they really put LOTS of stuff inside! There were 3 large kit kats, Ritter sports, a whole chain of crackers, several boxes of biscuits, some Werther lookalikes and I can't remember, so me and Shoko bought and split the loot 8D way more than enough for 4 person!
The rest of Ameyayoko was not much interesting. I took Purikura with Shoko (",) and the machine was one that enlarged your eyes. It also developed stickers for both of us, nice! And only 400yen.o.O love the Purikura machines here.<3
We had dinner at an Izakaya that had a 50% off food offer and ate lots there for only about 1000 yen each. The place is Nijyuumaru and the food is so-so, but at least we managed to have a decent meal WITH shabu shabu. Awesome.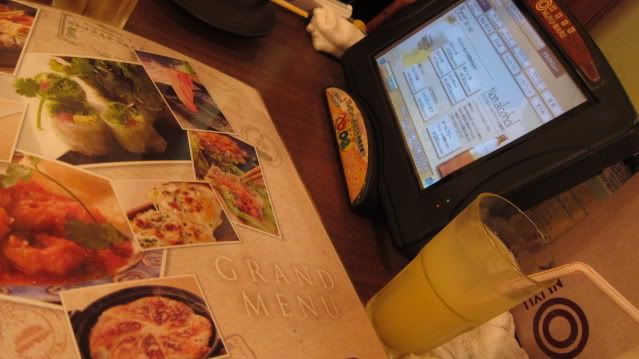 Shoko had to leave for baito after that so i was stuck with the guys (;´Д`A i actually thought it will be hell for me since these two are seriously replica of each other but now I'm so glad they met because they can start to irritate each other instead!!
It was actually quite fun to watch them insult each other, and the ultimately impossible and hard to believe retorts. it is one thing to be cute and irritating, it is another to be ugly and irritating. I'm positively sure I was overjoyed when ben commented Mr She looked like a 30 yr old father even though he was 2 years younger than me. Now take that you fool!!! Nanee Nanee poo poo!! Don't worry, I don't think this paragraph will even affect two ounce of his cyber universal giganto egoistical brain.
Since ben wanted to play the arcade, I had no choice but too follow (too late to go anywhere else too). Ben managed to trash She in everything, GOOD ONE :D HA HA HA!!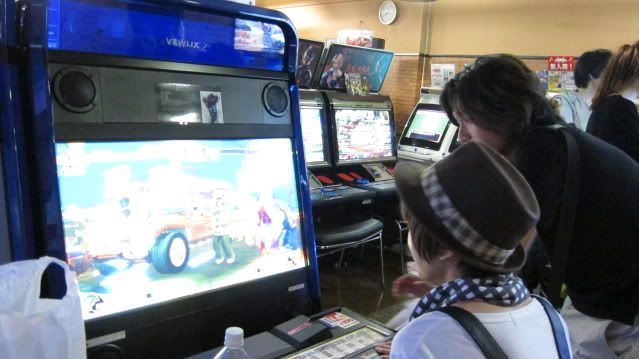 interesting drinks!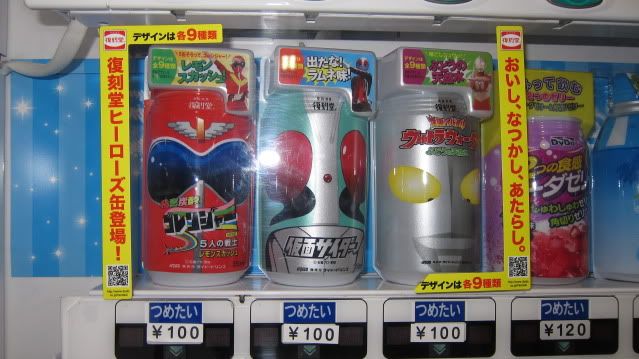 We then took a detour to find a coffee shop that Ben had his eye on earlier but ended up at Mister Donut since the other one was way too expensive. Talked till the shop closed at 11, before we went off. Seems like Ben found a new friend to irritate, I wish whenever She is around, ben will be around too now!! Hopefully Hoeman wil join them ad the eldest musketeers since these 3 Guys are seriously too damn similar (except for looks).