well, so on about the new year. this year my mom's away to taiwan and my dad to malaysia so it's only me and my bro for CNY eve this year. i was invited to reunion dinner with princess KJE's family, but it's too strange for an outsider to join... so i had a homely re-microwaved reunion dinner with my bro instead. hah! he cooked the rice (literally).
the rest was pre-prepared by mom so we just had to heat it up.
in the end i was chided for not attending KJE's reunion dinner cos the MIL apparently prepared a lot of food and an extra seat for me. but vivian took the leftovers to our house and we still ate it over the weekend. heh!
the first day of CNY was spent with vivian's relatives. it's a good experience and i get to hug little baby all day. we talked a little about cosplay because i made the hanbok for KJE, so it sort of got related to my works... but everything else was peaceful. and i got lots of angbao. awesome.
i was being introduced around either as the nanny's daughter or sixuan's sister. hehe. went to vivian's family and then marcus' family. not too bad! ate a lot and took some photos. wheee~
and i get to sleep with baby too. *hugs*
the next day we had breakfast at a macdonald's, then went visiting at vivian's wedding planner house.
around 2pm, my sister came over vivian's house and we had steamboat.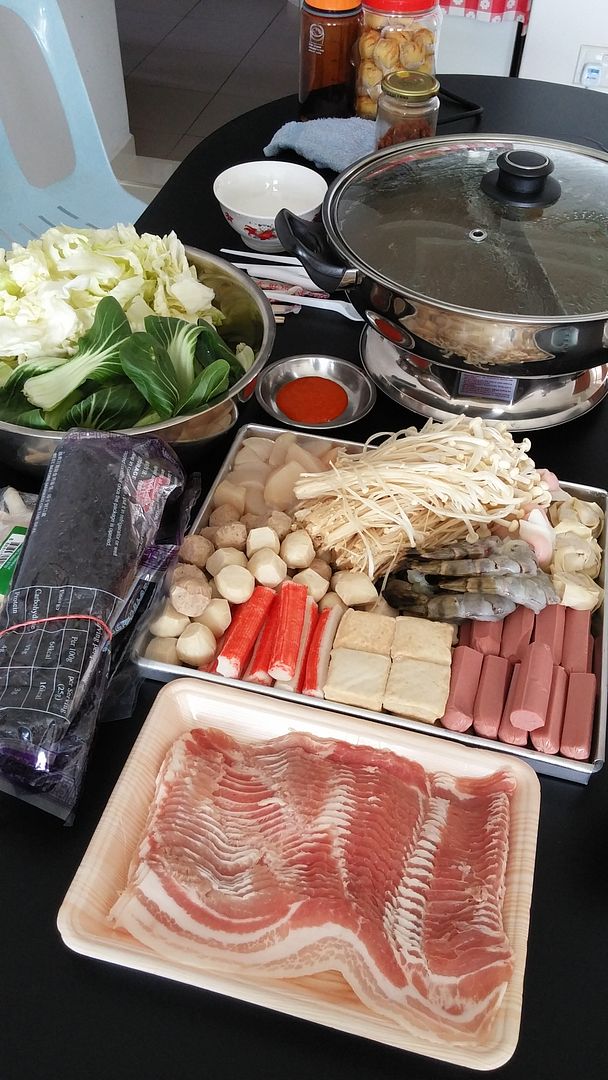 we ate till we all almost burst... and set off to malaysia at 5-6pm to continue eating with my dad.
apparently i got my information wrong and we had to come back to singapore after dinner since dad had to work on saturday. T_T so the whole of my weekend was then spent doing the stockings for Asoka (in previous post), while eating the leftover from vivian's reunion dinner. hurhur.
still a good and productive new year though! i seem to always spend my new year pasting weird things. still remember the last time i did it was for ji wu wang's crown, then the leaves decoration at my house and fishes in my toilet. always need to be productive during cny.... hah.