I thought I would be stuck in the office doing work for the whole of my trip, but thankfully we had places to visit. Halloween was approaching, so it seems Lotte world had a theme going on there. If your name contain at least 4 characters from the word 'Halloween', you can get 50% off your ticket, and if you dress up with at least 80% of your face painted or something you can get 60% off. Foreigners weren't entitled to anything, but the personnel was so nice she just gave us a discount. Yay!
The guys wanted to dress up there, but I was too lazy so I just refused. In the end, we woke up at 10 and there was just simply no time to dress up. By the time we reached there it was already noon. We were starving so we stopped by a food court to eat. I like Korean foodcourt because of all the appetizing Korean food sold there. This time, a Singapore/thai/Korean mix caught my eye – the following couple set. I like these kind of chapalang dishes hurhur.
We went in only around 2pm+? but we soon realized that there wasn't really much to do.
A lot of rides (especially the good ones) required Lotte passes, which is only obtainable via their phone app. And you have to log in every 15mins to reserve a slot. The most ridiculous thing is a the start of each 15mins interval, the slots are ALWAYS taken up. It's a game of the fastest fingers/phone/data streaming first =_= we all agreed that this is the worst thing any theme park has made. And the next in line was the decision to come here on a Saturday. In any case, there's still some interesting Halloween stuff to see even if it's not as great as USS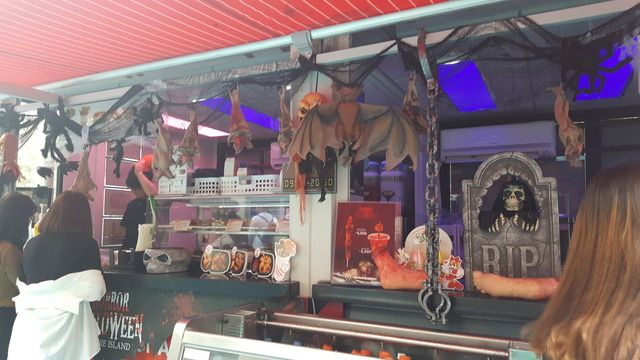 stopped by Gong cha for a drink and there was a group of trumpet players who stopped there coincidentally too.
In any case, we went for the boring 'haunted' 3D screening where you travel through a weird house through the eyes of a cat, then rode on the bumper car. Those didn't require any passes. Luckily, Mr K had some pretty fast fingers and managed to catch the slots for the Gyro swing, Atlantis and one of the haunted house – which is the cat movie we were watching before. The thing is, after 6pm, some rides changed to become totally different. In this case, the 3D movie switched to just a movie, with live acting. There were even ghastly looking dolls sitting on the benches. It was actually pretty creepy.
We went to queue for this VR show, which only allows a limited number of 100 people each day. However, we didn't manage to catch it… I was looking at the youtube video of some foreigners who did and it seem pretty scary!!
I'm thinking that Lotte must have a change in management, because they are limiting a lot of changed haunted rides to only 100 people per day so that people can keep returning to try their luck at queuing for these items. It's sick. Makes me NOT want to come back again.
We managed to catch another haunted ride – which is basically a kiddy ride. I can imagine that it must have been an all smiley, sesame street kinda ride in the day, but because they changed the lighting and the music, everything inside seem to turn scary! It was actually not a very scary ride since nothing much was changed aside from that, and there were some female ghosts popping out to scare you, but it was still fun to see Mr K and Ark up in the first row with their ears covered. I sat with Pion because she brings me so much courage. Pion so brave!! She no scared of anything!!! 8DDDD
And on the streets, the zombies were running amok, scaring people left right and centre.
here's a few zombies - the large ones:
the cool jumpy ones
video
the idol kuan
However, I do find the scary thing about this is how the Koreans are chasing after each zombie trying to take a selfie with them. It's almost like chasing after a pop-star?!?? I believe this is really because they've used pretty good-looking foreigners, or Koreans are just crazy about ang-mohs in anything. Bleah. Ark was even trying to 'light' up using his HP flash for us to take proper selfies. Since the zombie was just standing there within range, I took a selfie too. HAHA! /act korean
We also realized that the female zombies were surrounded by guys, and the male zombies were surrounded by girls. And these young girls kept shouting random 'you're handsome' to the zombies while shouting in 'fear' caught one very interesting vid here. Lol.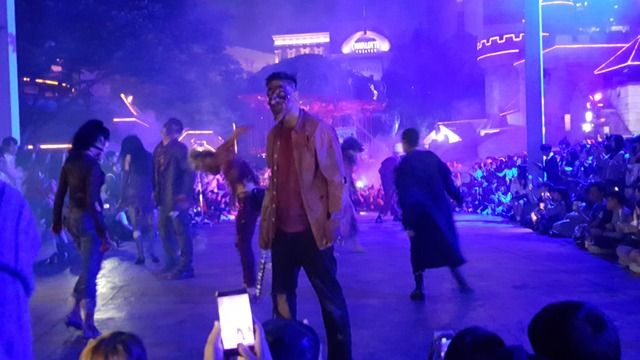 The zombies ran around scaring the audience, catch a prey to 'eat', then starts to dance very asynchronously.
The cycle repeats for the next 10mins. I couldn't take it anymore and squeezed out of the crowd. It was a complete waste of my time and I had endured all those squeezing to watch this. The dance wasn't even good, they really disappointed Thriller. Zzzz it was just each of them dancing haphazardly by themselves. Geez.
In any case, we exited the theme park after that, and went to look for Wacki and Skasha at a nearby food area. Settled down for some bbq (again), yay! After that, we went home to Yongin via the express bus. At least the day had been entertaining!!