ok, so the guys were very determined to feed me gob-chang (intestines) and told me that this franchise serves one of the best gob-chang, without any poopy taste.
went along with namchin and mr gold, and it seems that it is really pretty tasty! there's no funny taste and the meat is super chewy. it looks a little scary at first...
but once you cut it up it looks pretty normal
there's also something about the water served here, it has slight aloe vera scent. very very nice!!
aside from the meat, i actually like the soup the best. it has egg, tofu and mushroom, all of which i like. and best of all, it's a free, refillable side dish! i can just eat that with rice...
and you don't end a bbq meal without fried rice... so here you go. staff cleaning up the pot...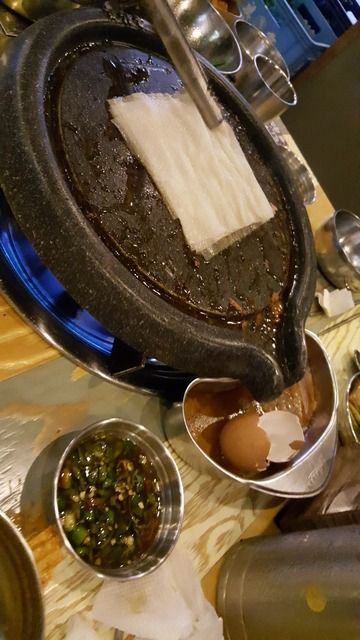 and topples 2 pack of rice with seaweed and egg mix. it was actually kinda too much for 3 person. should have just ordered one...
lastly, the meal is wrapped up with your selection of an ice cream from their freezer.
i chose the peanit butter one on the right but the crunchy cookie was actually better.
super filling meal!