DAY 6
woke up early to have breakfast with tkh cos i couldn't really sleep well. not bad, met lots of people!
yessss pabo who bang-sehed me happily having breakfast with yuri tsk tsk.
we were then joined in by team brazil, spain and italy
rain with his blurry face was there too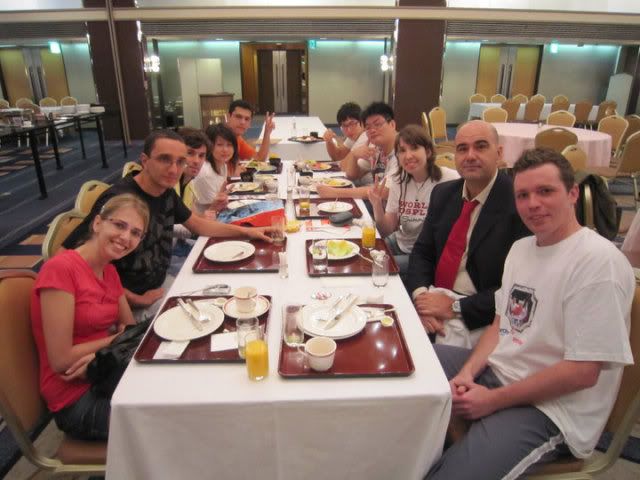 around 10, some of them had to leave for the symposium, and rain said he had to go wake the others up. (and it turns out pabo went back to sleep AIYOH so much for going out!)
we took some photos with team spain before we retired to our room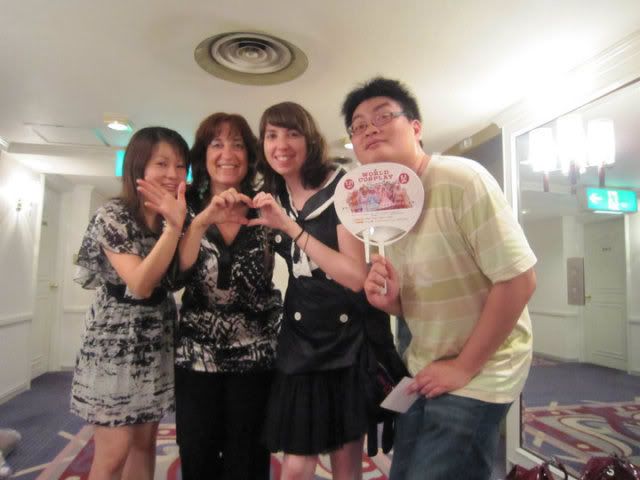 for the rest of the day, nothing much to do except me and maoh headed over to animate at nagoya-eki, then to bic camera, and maple wig shop. asham and mel were fascinated by the yaoi/yuri shops so we went to check them out too before returning for the day.
nothing to do in the room so i had a loooooong loooooong bath and took pictures of all the souvenirs given by the team. whoops, team singapore didn't bring anything there =.=
here's stuff from team australia. lots of gashapons!
tidbits from team USA
stuff from france, etc
lots of namecards getto!!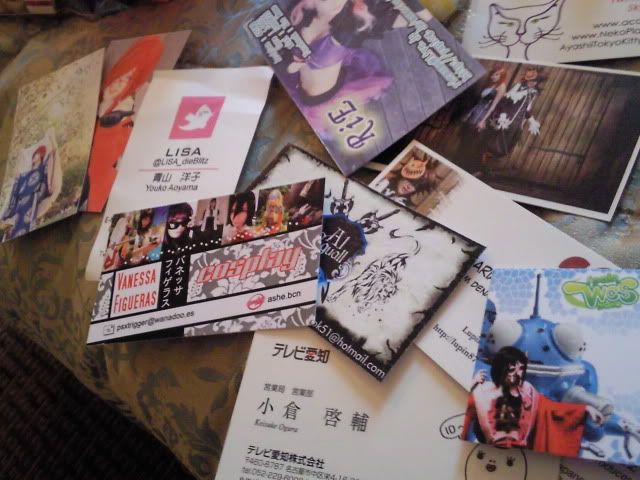 there was also keychain from brazil, stickers and badges from spain, money (yes coins!) from mexico. too lazy to take them all out. also we had dolls and cups from the meetings with the mayor and such, and photo books from the japanese cosplayers. prezzies! prezzies!
about 530, i couldn't take it anymore so me and maoh went out for karaoke! even though i was slowly losing my voice and sounded like shit at least it was better than rotting in the room for the last day in japan. GAHHHH. we sang for an hour and was late for the party. jeez, i thought it was supposed to be 7??? turns out it was 630. major rush to get there, and it seems like one of the aichi staff and lopez got the address wrongly too. phew, someone to pei us after all...
i'm so sad, i was watching at the corner by myself T.T too embarrassed to face everyone since our performance was a complete flop and they were playing the whole damn thing again. T.T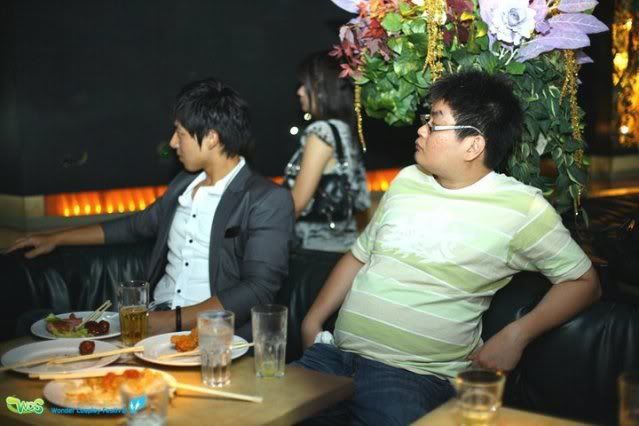 rain tried to tell me it was ok, and my idol also came to talk to me, but sighhhs... after about 3-4 drinks though, i began to feel slightly better. towards the end, lee-san even dragged me around to take lots of pictures!!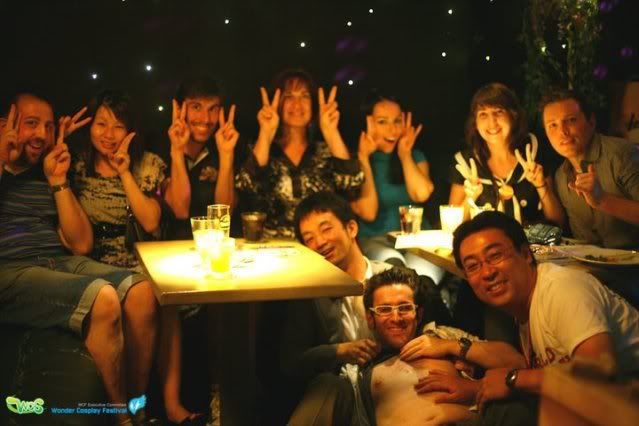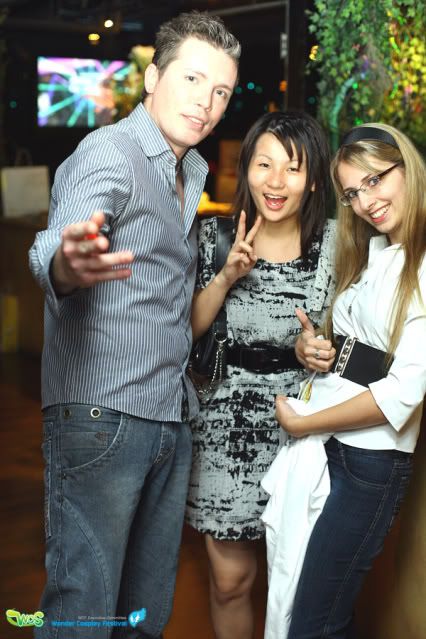 i was taking pictures with so many people i have no idea who i was taking with anymore but i still got to know them anyway (like the japanese cosers... and some of the organisers). and i have a professional photog helping me to capture these memories! not bad!
here's one kapo-ed from ran. heehee
i went over to the dance floor as well and was twirled around by morton. ehh!
there was a lucky draw too and everybody got to win something. i got a onepiece cup, #6, same as my idol! <3<3
and i can't seem to find those i have with my idol though T.T going to pester rikert (aka kong1) for them... arghh.
managed to find from
wcs germany website
!! omg i so love puca for this!!
and my very cute little white tiger, affectionately named Ling.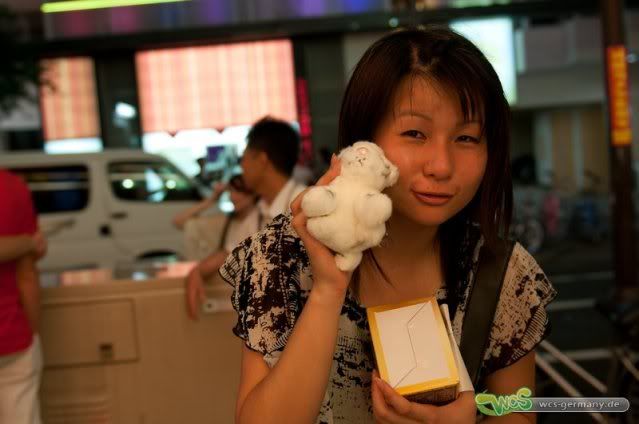 kapo-ed this from saerom!!! WHOOOOO!!! movie cast eh! wait is rain and sy wearing matching pants!??!
before we wrapped up, ed had tkh and with team of sailors do the burmseon-lee dance for everyone to learn. it was hilarious!!!!!!!!
and that's all of us for the final photo.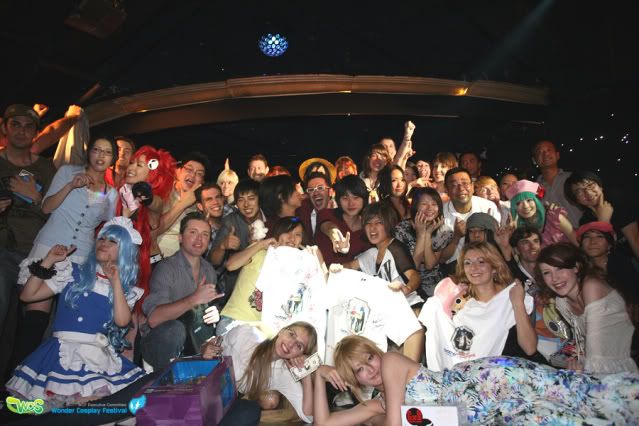 when the party was over, the people split into those going for karaoke and those going for second round of nomikai. since my voice wasn't doing so well and i've already sang, we abandoned pabo and went for nomikai. lols.
he was so mad at us when he saw us later bwhahahah.
after nomikai, we even had a 3rd round back in pabo's room with sy and rain. i got to pick the stuff i want from all the coins we pooled together and bought lots of strange drinks (like milk, pudding...). rikert came in around 4am and passed me all the photos he had, but my kitkat usb was too small (so i have no photos for the last 2 days, sucks!!!!!!!). i left to bathe when i heard shiguma and co were going to come in, and we had to move to sy's room... and the room will be filled with smoke. ~.~ although i really wanted to stay.... but oh well...