so on thursday we ate a late lunch at the buldukpeggi (boiled beef with mushroom) place, but their ingredients were not enough and i didn't get to eat what i came for T_T still, i tried something new today. the beef soup on the left and the spicy octopus on the right - both were pretty good~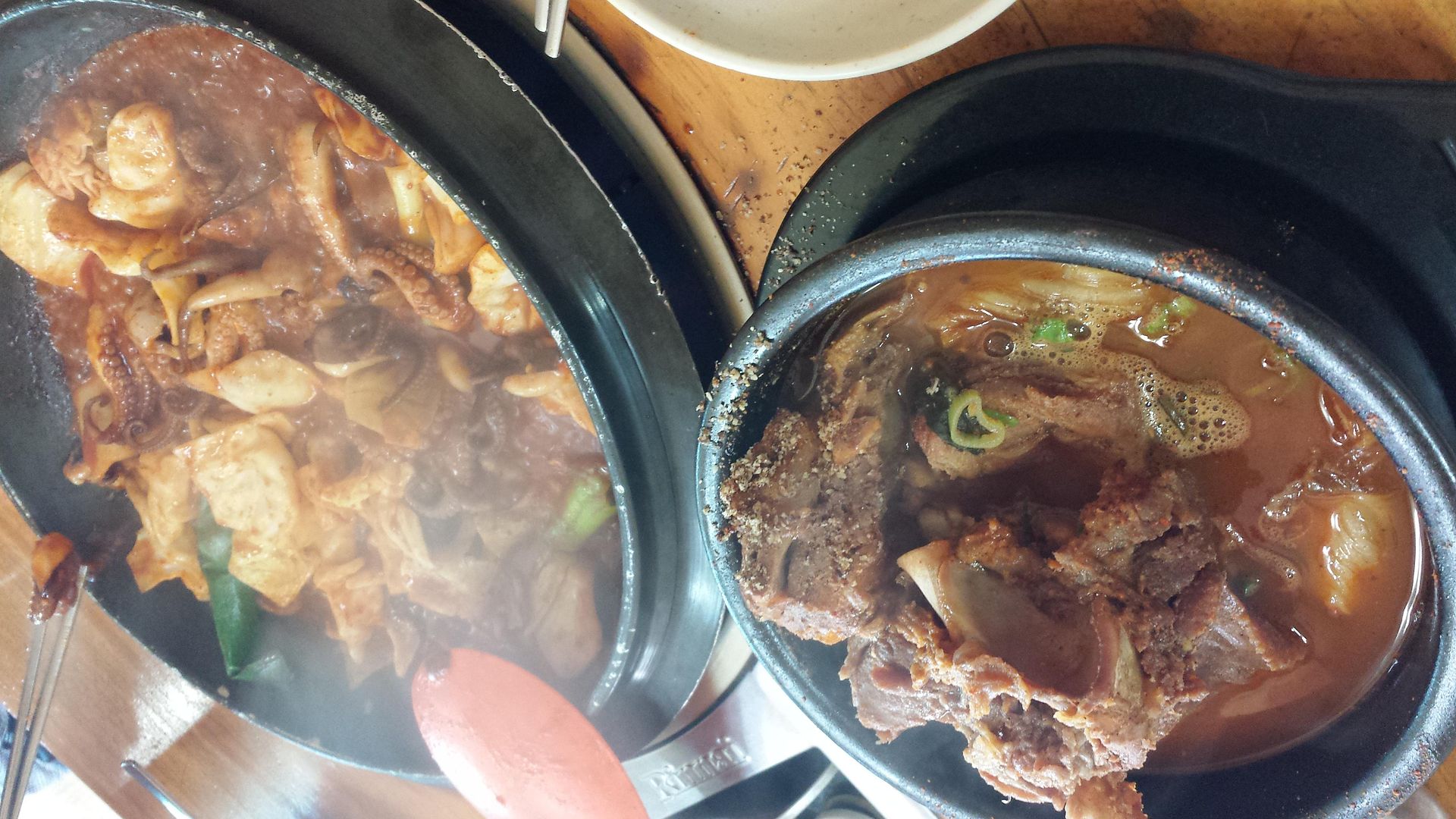 then headed to back to the office and cleaned the whole place up. i was arranging the cloth basically. i also arranged my luggage for the flight tomorrow. when it was dinner time, we headed out to do some grocery shopping for my back-home souvenirs. also caught a buldukpeggi place just beside the mart and shared a bowl there.
had a pretty relaxing night. pion came over to place her cat with the rest as she needed to go to million arthur's event. however, her cat has a really fierce temper and wasn't able to stay harmoniously with the rest. even with humans, she was growling at us all the time..!! when i called her name, she suddenly turned fierce too. yeowch.
we watched Snowpiercer back in the room while listening out for how the cats were behaving. it was already past midnight when we started the show. in the end, Mochi (pion's cat) yelled really loudly and seems to be affecting all the cats there, so we had to grab her to stay at the office instead. however, it was not easy because she was attacking everyone who came near her!!! ark suffered some scratches while using towels to capture her.
and then 00 had to come and trap the cat together. look at her powerful whacks!!! the best thing though, were the cats around that's basically watching the fire.
after struggling much, the cat moved into a corner where we could trap her in her cage. see kaka who jumped down just to have a look at how mochi was being captured. lol. the cats huh...
it was already 2+ when we were done catching the wild feline! went upstairs to sleep for another 2-3hrs or so before we have to wake up at 5 to prepare for my flight T_T we departed around 6+ and took the bus at 720 down to the airport.
i managed to claim some of the tax free stuff this time. you have to register at their machine by scanning your passport and the receipts with the tax free indications. then after entering, go to gate 27/28 to collect your payment, or use the machine again to verify and receive your cash. not bad!
i was also overweight by 5kg and have to take my stuff out in a bag, which wasn't a bad thing since the kimchi spilled later on T_T
since we have an hour left, we went to have our last meal together at dunkin... dear's face became phwaaaat after eating so much with me these 2 weeks eh.
checked in finally around 10am and departed on my flight. my in-flight food!! all beeeeeeef. and red wine goes well with them.
touched down singapore on friday, at 8pm. there was a delay due to the rain and we kept seeing flashes outside before we touched down. reminded me of when mr she told me his flight got struck by the plane. every drop made people panic... finally got out around 830-9pm, welcomed by my dearest sister and her hubby.
and a good ride home~!!! with the car smelling of spilled kimchi T_____T
cleaning was horrible afterwards. and i had to pack for shingeki so i ended up sleeping around 1230am++. tiringggggggggggggggg.