Jeonghoon came over at 1030am to pick me up to the office, so I started the day pretty early. We went for lunch around 1.30pm at this Yukgejang place called Ihwawon, which is pretty nice! The soup is spicy yet sweet at the same time, and the soup portion is big! Love the lean beef inside as well.
also stopped by mac drive thru to get food for the other guys, and i had salted caramel mcflurry. love the bits inside.
Went back to slog till 430pm, then we all headed to Gangnam to pass Pion her costume for the shoot tomorrow. 00 got some chun cui milk tea for me~~ <3 span="">3>
made the wrong choice of taking a taxi. racked up a high amount, and the travel time wasn't much different...
After that we looked around Gangnam and wanted to have dinner there. had a little argument because 00 seem frustrated at something and i didn't want to hang out with an angry man. in the end, we stuck around gangnam and wanted to look for the cheesy octopus place we had before, which was no longer there T_T
just right in front of the bus stop, there was a newly set up Katalk shop there so we bought some cute little figurines that can be placed on mugs. The shop is so popular locally!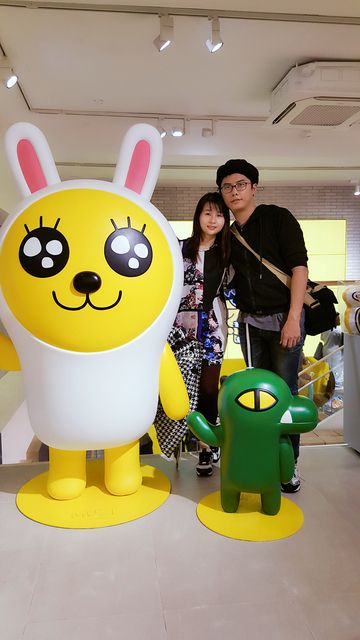 After that Jeonghoon came separately to pick us up to Yongin, and we stopped halfway at a random area for dinner. There was a supposedly nice ramen there, but it was closed (almost close to 10pm by then). Nearby was a tofu jjige shop so we just went in. Turns out it was a pretty good find! Look at the side dishes… fish!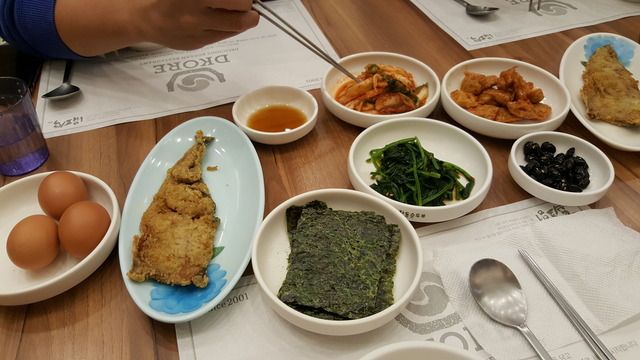 There was a variety of tofu jjige soup, with ham/cheese, seafood, curry, intestines, etc. Me and Mr K shared a curry version while Jeonghoon and Ark had Gobchang (intestines).
It came with stonepot red bean rice, and you can pour Bori-tea in the leftover rice to make Nurungi.
Then it was time to get home. Last day till Singapore costume is complete – jiayou!