there isn't a lot of western breakfast in korea actually, or in yongin, so when i was craving for some waffles, dear checked out some places and we headed to gangnam.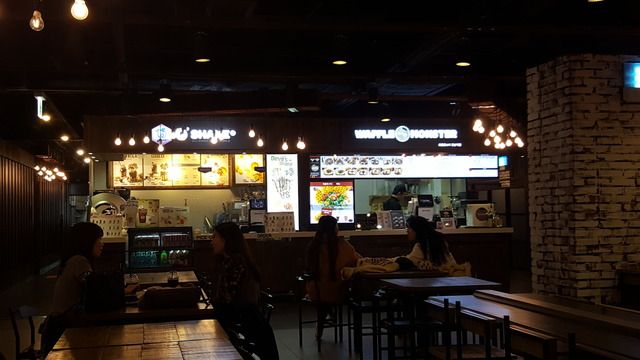 there was a foodcourt-like place there selling lots of delicious stuff! it's almost like a food republic korea version. there was also the crazy devil shake we had at hongdae previously.
but of cos since we came for waffles.. shall not be distracted.
here's our waffle! you can pick 2 types of cream to go with it. i don't like creams, so the matcha and vanilla scoops go to mr k and that choco chip ice cream is mineeeee. there's also an american top up at just 1k won (i think). i ordered hot yuzu since the weather is so collddddd.
we also visited the kakaoshop at exit 10, before getting home. there's a cafe on the top floor and look at the cute cupcakes! doesn't appeal to me though, too much cream hahah.