went to shibuya on saturday with byeolyi and emiko after my japan in asia lesson, which by the way is damn cool since we get to go on tours every alternate week (which also means $$$ to be invested in...).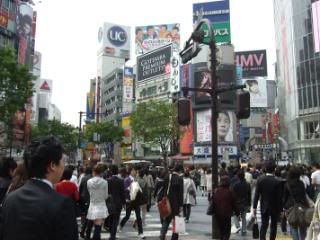 ooh did you see ayumi's posters? nice! although i see a lot of ayumi-copies in japan...
and there's a guy standing on top of a van... not sure what he's announcing haha.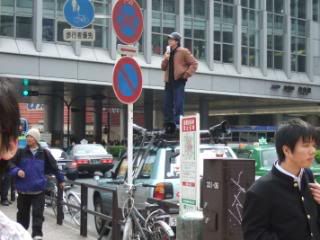 the main attraction here is actually the 109 building because there are lots lots lots of women's stuff (it's a building with PURE LADY'S WEAR). but the things are so expensive! you can't find a top cheaper than 3000yen. sighs.
ooh and there's a barbie clothes shop (not for barbies) too.
we went to eat at this burger place (which i forgot the name). and i had a bacon egg burger... looks like normal mac to me, didn't bother to take any pictures. but still yummy. 290yen though (-_-`). imagine 4bucks for a burger. they have different soups with dips selling to at above 320yen.
after that, me and byeolyi went back to ikebukuro to shop, cos it seems that the sunshine plaza there has almost all the shops in ikebukuro (that we're interested in) and there's a sale going on too. oh yeah so we bought loads again.
i saw their theatre along the way to sunshine plaza. it looks pretty grand, but the tickets are SUPER expensive. it's like 1800yen for a movie, and probably 1000yen for a high school student. still expensive.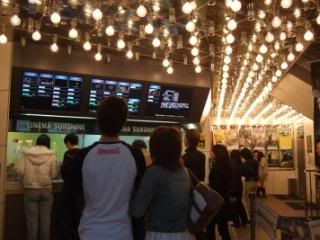 and when we went back, we saw some wanna-be singers along the streets called something lulu (hmm i have a really bad memory). their voices are pretty good!!! and they synchronise really well. managed to get a video of them but too lazy to upload for now.