yesterday (saturday), i cooked the maggie mee i bought for breakfast.
remember this? the first ever instant mee created by the japanese. heard it's $20+ a packet in singapore. well i got mne for 93yen.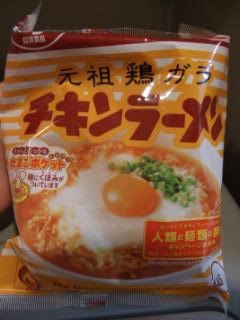 it's really easy to cook, there's no little packet of msgs inside, just dump the entire thing in boiling water and crack an egg on top. i added some ham slices though. and it tasted really good! and it did kinda look like what is on the picture above, doesn't it? and that's my best egg ever. looks like i can really only cook maggie mee...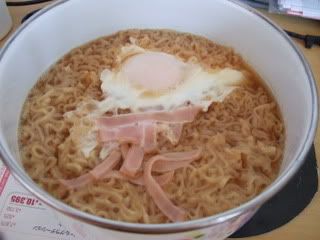 and just now, i went to cook some rice. well the rice is already pre-cooked so i only have to fry some dishes. i used enoki and the last bit of my carrots to fry in oyster sauce and pepper, then dumped a portion of rice in with water and soy sauce. also cooked an egg dish with soy sauce and pepper. turned out not so bad, just that i have somehow melted the tip of my rice scoop and i maybe eating melted plastic. i am so gonna kill myself with my own cooking. oh, and i burnt the pot. IYADA. scrubbing them off was a pain.