15th sept
went out to meet cheryl and joanne (new SMU exchange students to rikkyo) for dinner today. i have never seen them before but i exchanged emails with cheryl and sort of know how she looks like. cheryl looks very familiar but i just can't remember from where so when she told me that she was actually in my SBM class, i felt so paiseh for not remembering!! (-_-`) gosh.
anyway i accompanied them to softbank to get their phones. seems that the introduction voucher is only valid for those who bought their phones after july 1st so i wasn't entitled to my 5000yen for introducing new users. SOFTBANK SUCKS. but luckily, joanne and cheryl bought their phones at the same time so both could receive 5000yen each. WOW.
then we went to this maguro-don (or something i can't remember the name) to have dinner. it's kinda like a high class matsuya selling lots of sashimi dons. i ate this salmon scallop thing. the salmon's exterior looks cooked but the inside looks raw, it's damn nice i wonder how they do it. and of cos the scallop rocks.
joanne ordered some seafood mix
and cheryl had maguro and salmon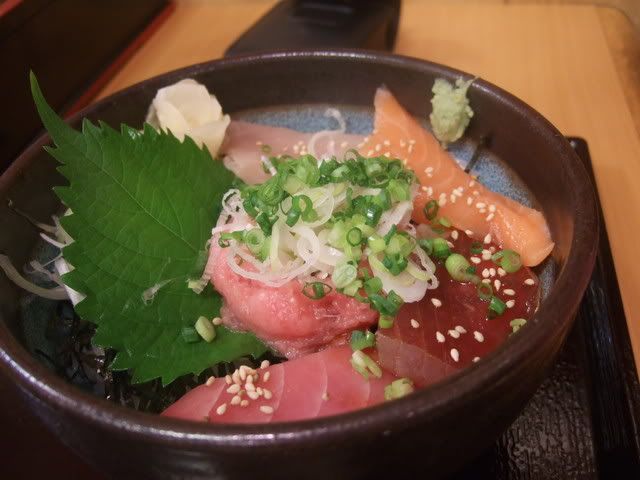 and here's us~
oh ya that day i tried my new hair curler but i think it got straight again after a while. oopsy.