arghh at the rate i'm going i'll probably never be able to finish updating my trip. i'm soo way behind time. and it's such a hot hot day today. i did my first ironing ever also. my baito has already started so for the past 3 days i've been washing tons of dishes. oh yeah, talk about a degree-holder doing dirty work. (-_-`)
well then, on with my updates. the next day after my sis and denzyl left, it was time for another japan in asia tour... which i didn't go because i wanted to attend the tetsuguri lunch (homemade lunch) by the rikkyo ladies club instead :D
i didn't bring my amera so sorry for the lousy pictures.
i know you can't see the food but yeah... lots of variety of damn delicious self-made cuisine, which i ate lots (as usual).
they also let each of us an choose from a range of awesome entrance gift including handbags, branded handkerchiefs, disney cookies, etc.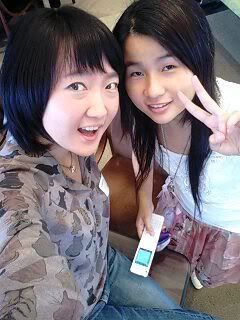 we also had lucky draws to go disneyland, ghibli studio, home visits and free gifts such as a set of yukata and toaster. (i also got the home visit, oh well)
and we got to try traditional green tea too. awesome ;p